… why their mysterious feminine juices didn't protect them from pregnancy, Mr. Akin.
And you, Mr. Ryan. Yes, you. The man who solidly and passionately backed a bill that would deny women the right to an abortion in cases of rape.
Let me tell you a story, both of you. Because perhaps you are too young, or too old, or too fucking ignorant about history to remember.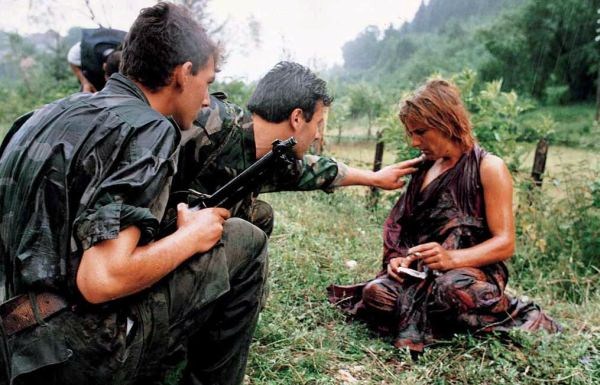 Between 1992 and 1995, during the Bosnian war, an estimated 20,000 women (this is the lowest estimate – some estimate as high as 50,000), mostly of Bosnian Muslim or Croat origin were herded into prisons and  camps, systematically and repeatedly raped. This was an organized, deliberate act of ethnic cleansing on the part of, primarily, the Serbian army.
In some camps, like Karaman's House and at Luka they were raped daily, purposefully impregnated and held prisoner to the term of their pregnancies. This tactic was used as a way to force Serbian 'blood' into the Bosnian populated areas. This happened to women and girls as young as 12.
In a landmark study of 68 victims of this abuse, 21 were raped daily, during their captivity. 29 of them became pregnant. 25 had suicidal thoughts, 52 had major depression a year after the end of the war. (Loncar, M.; V. Medved, N. Jovanovic and L. Hotujac (2006). "Psychological consequences of rape on women in 1991-1995 war in Croatia and Bosnia and Herzegovina")
So for 40% of the women studied, their magic uterus didn't work, Mr. Akin. Perhaps you imagine that for those 40% it wasn't 'legitimate' rape. Maybe you think they enjoyed it, you sick fuck.
And of the 29 who did become pregnant, Mr. Ryan. YOU would have denied them the right to an abortion, you despicable bastard.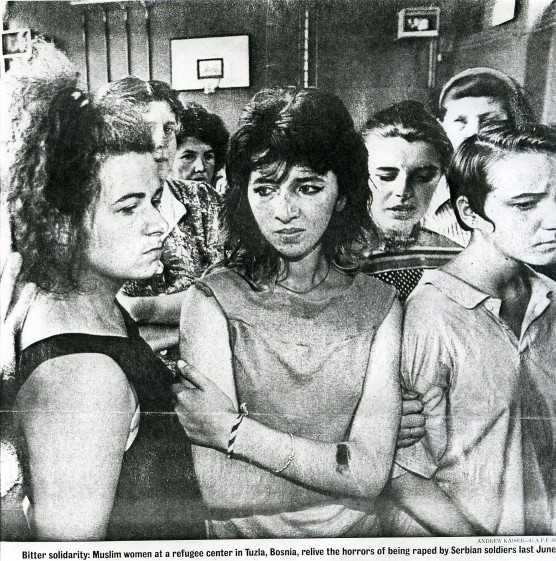 There were places where, towards the end of the war, knowing that what they had done could be prosecuted as a war crime, the Serbian army simply killed all the women. Places where the women were freed and wandered shellshocked and insane. Many committed suicide, Mr. Ryan and Mr. Akin.
Mr. Ryan, Mr. Akin, I want you to look at these women. I want you to roll out all your magic fluids crap and your 'gift from god' baby garbage to these women. There are at least 20,000 like them.
In fact,  I will pay to fly you both to Bosnia so you can face the stadium full of women (it will take a stadium to hold them all) and trot out your ridiculous policy proposals to them.
Mr. Ryan, Mr. Akin, and you too, Mr. Romney – because you will actually tolerate Mr. Ryan standing next to you. I feel no hesitation in saying I despise you all. I hope you both rot in the deepest hell reserved for ignorant, sexist assholes who haven't a fucking clue about women's realities  but want to run our world anyway.