(For the dough)
1 cup warm milk (110 degrees F/45 degrees C)
2 eggs, room temperature
1/3 cup margarine, melted
4 1/2 cups bread flour
1 teaspoon salt
1/2 cup white sugar
2 1/2 teaspoons instant dry yeast

(For the filling)
3/4 cup brown sugar, packed
¼ cup white sugar
2 tablespoons ground ginger
1 tsp nutmeg
1/8 tsp ground cloves
1/3 cup butter, softened
2 apples peeled and chopped into small cubes
1 cup dried cranberries

(For the icing)
1 (3 ounce) package cream cheese, softened
1/4 cup butter, softened
1 1/2 cups confectioners' sugar
1/2 teaspoon vanilla extract
3 tablespoons of lemon juice
1 tablespoon of ground ginger
1/8 teaspoon salt
Melt your 1/3 cup MARGARINE or butter – set it aside to cool. No, sadly, you can't use female effluvia or cum.
Break the 2 EGGS into a little bowl – set aside for them to warm up a bit. Or you can warm them up between your thighs.
Heat 1 cup MILK, but just really only to warm – pussy temperature (you know what that's like, don't you?) – you don't want to kill the yeast!
In the ENORMOUS bowl, sprinkle the 2 teaspoons of INSTANT DRY YEAST over the surface of the warm milk: just let it kind of float on the top for a bit and settle of its own accord. Vaguely organic things will happen. The yeast will get a little foamy. I guess now is not the time to liken this to anything sexual but..yeah…kinda.
Add the 2 EGGS, 1/3 cup of MELTED BUTTER/MARGARINE, 1/2 cup of SUGAR and 1 teaspoon of SALT into the yeast & milk in the big bowl
Stir until any little lumpies of yeast are gone. Smush them against the side of the bowl if you need to, to incorporate everything.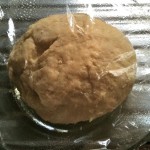 Add the 4 1/2 cups of BREAD FLOUR. You can do this all at once, but if you add it about 1 cup at a time, then you can get through the yuckiest part still mixing with a spoon. But it doesn't matter. Once all the flour is in, use your hands. Squidge your fingers through the dough making sure that no lumps of dry flour remain and that you've got a nice even, smooth dough. Just go to town on the sensory gooeyness of it. It's fun and kinda sexy. When it gets to the point that it seems like it would feel really good to stick your cock in it, it's ready.
Pick up your lump of dough and put it into another large, lightly greased bowl. Cover with plastic wrap and put it somewhere nice and cozy for an hour. It will double in size, or even more. Don't worry if it takes longer. That just means the room is not warm enough for a fast rise – put it somewhere a little warmer.
Set out the 1/3 cup of BUTTER so it will be soft when you need it.
Come and do nasty things to me. We've got a whole hour at least, so we could get very down and dirty in that time. Bit of light bondage even.  Don't worry if your hands are floury – I like it.
(ahem…back to business)
Mix the 1cup of BROWN SUGAR and the 2 1/2 tablespoons of CINNAMON together in a bowl. Use your hands to break up any big lumps of sugar.
Grease or spray pam on a 9 x 13 inch baking pan or closest you've got to that. As long as it has sides, it's fine.
Find a nice big expanse of clean kitchen counter and liberally (generously) dust it with flour. You are going to need about 2.5 feet wide and 1.5 feet deep.
This is when you bend me over the counter, push up my skirt, wrench down my panties and fuck me on it. I can feel the silky texture of the flour pressed against my cheek already. I might slide about a bit, so hold on tight.
(Just joking. Well, sort of. Not Really. Oh… focus!)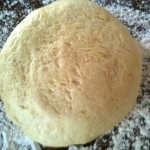 Check on your dough. If you stick two fingers1/2 inch into the dough and the impression stays, it's ready. It should have doubled in size and have the same surface texture as my ass begging for a spanking.
If your palms don't itch to give it a good thwack, it's not ready yet.
When it is, dump your risen dough out onto the floured surface and, dusting your hands in a bit of the flour on the counter and let it rest for 10 minutes.
This is more than enough time for a bit of oral sex. You know, idle hands make the devil's work, and all that.
After the rest, pull it into a roughly rectangular shape. Dust your rolling pin with flour and start rolling it out flat. You want to get it into a 21 inch wide x 16 inch deep rectangle.
It will fight you at first. Lifting the dough up and flipping it over a couple of times helps to get it to cooperate.
(Lifting me up and flipping me over a couple of times is equally effective. Funny how that works for all sorts of problems, huh?)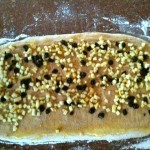 You want to coax it into shape. It doesn't have to be perfect or absolutely even. You really just want roughly size right.
Spread the 1/3 cup of SOFT BUTTER over the surface of your rectangle of dough with a spatula or a knife. You could use a brush, but you want it spread pretty thick. Doesn't need to be perfect. You don't need to get the butter all the way to the very edge.
Sprinkle on the SUGAR/GINGER mixture on top of the buttered dough. This works best with your hands. Leave a little clear border at the bottom of the longest side, the side nearest you.
Distribute the APPLE and CRANBERRIES on top of the sugared dough. Distribute them pretty evenly over the whole surface, but keep that border near you clear.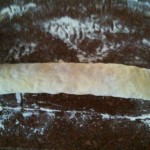 Take the far edge (the long one) and, with your fingers, start rolling up the dough into a roll. Don't get paranoid about it being too tight or not tight enough – these things have a way of working themselves out. Just a nice gently snug roll will do.
I just have to take a little time out to tell you how marvelous the dough feels at this point. In fact, yes, I'm horny again.
Take a knife and, after dispensing with the sad ragged little end bits, cut 12 rounds of the roll.
As you cut them, place each roll, cut side up, into the pan, lining them up like this. If you have too many rolls, or a round pan, don't worry. Just lay them out around the edges of whatever and just touching each other.
Cover the pan with plastic wrap and put it back in the cozy place for 30 minutes more.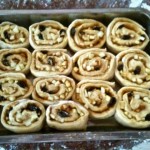 Set your oven to 400F (200C) and begin preheating.
Set out your 3oz of CREAM CHEESE and ¼ cup of BUTTER to soften.
Since we have the time and the butter…well… half an hour is more than enough time for a little buggery.
After 30 mins, the dough will have doubled in size again, but it's harder to see now. But the rolls should be all puffy and nuzzling each other like love sick puppies.
Bake in the oven for 15 – 20 mins. Mine actually took a little longer – more like 30.
While it's baking:
Put the softened CREAM CHEESE, the ¼ cup of softened BUTTER, 1 1/2 cups POWDERED SUGAR, the1/2 teaspoon VANILLA EXTRACT, 3 tablespoons of LEMON JUICE, 1 tablespoon of GINGER and the 1/8 teaspoon of SALT into a bowl and whip together. You can use an electric mixer, but a whisk and some muscle will do fine.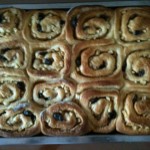 Spread this all over me and lick it off.
(there is more than you need actually, so you could, conceivably use a little for nefarious purposes.)
Once the buns come out of the oven, nicely golden on top
Spread the icing roughly over the top of them with a spatula while they are still warm and in the pan. You don't have to be neat. We're going for a rustic look.
Wait until they're a little cooler, then run your knife around the edges of the pan and, roughly following the lines of the buns, cut and pull them out of the pan. I guess you could take them out of the pan and ice them on a cooling rack – that would work too.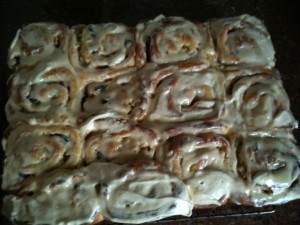 Now show me your very deep appreciation for all my efforts.