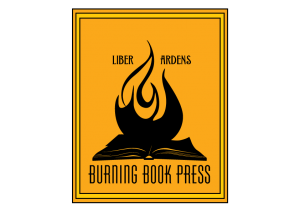 It's my very great pleasure to announce the launch of what I hope will be a wonderful literary project. Burning Book Press is an indie press dedicated to intelligent creative writing for grown-up readers who don't require hand-holding, moral guidance, or limited vocabulary reading matter.
For many years, Aisling Weaver, Wyeth Bailey, Raziel Moore, Ximena Mendez, Will Crimson, T.R. Verten, Michele Bekemeyer, Ruby Kiddell and I have all felt that the erotica genre aimed too low, literarily speaking. We all had a dream of pulling something together to encourage the growth and evolution of our genres and of providing a publishing outlet for writers who crossed boundaries, embraced transgressive themes, and wrote with skill and intelligence.
"Our mission is to offer readers fine literature – the exceptional quality that defines literary fiction – across multiple genres, including Contemporary Fiction, Erotica, Romance, Mystery, Horror , Science Fiction and Fantasy. We publish ebook fiction (novels, novellas and short stories), poetry (anthology-length), and a limited amount of non-fiction (memoir, biography, essay).

Burning Book Press operates with the agility of a small indie e-publisher while seeking to set a high professional standard for editorial quality —  from manuscript acquisition, through editing, production, marketing and distribution. The company is privately held with principals operating in Atlanta and London."
Please wish us well and please visit the site.