"…at the core of human being is an exhibitionistic impulse: in order for us to see ourselves we must be seen."
Alessandra Lemma on Lacan*
Whether you believe in universal truths or you acknowledge that they are negotiated and constructed within cultures, it matters not. It is useful to entertain their existence. Being an atheist, I don't think truths come from outside ourselves, nor do I believe most of them are timeless and unchanging. That being said, I still hold them in great regard. Especially when writing fiction.
When I read new writers of erotic fiction, one of the things I have most often felt the need to say is – you need to be honest. You are protecting your character because there is too much of you invested in there. As writers, we all write a little of ourselves into our stories, and we all have a tendency to protect ourselves. This is especially true, I think, with erotic fiction. Our understanding of what is erotic, how to be erotic, how to 'see' pleasure, use pleasure, give pleasure seems to reflect so strongly back on ourselves, it is hard to conceive of new eroticisms, because we fear that people will judge us if we veer too far away from the accepted (I don't mean kink. We accept kink fine. FSOG sold 50 millions copies, so don't fool yourself). Intuitively, it would make sense that the more secret and private and personal our acts, the less society would have to say about what is or isn't recognizable or acceptable as proper erotic pursuits. But this is, in fact, exactly the opposite. Society offers us very rigid ideals of the right and wrong way to experience, pursue and satisfy desire. My last short story could easily be viewed as an anti-erotica piece. It is a portrait of the sort of person we most revile in our society: she fails in every way to be what society tells us a sexual person should be. Her desire is unrequited, she continually deludes herself about the outcome of her situation, she doesn't even have the excuse of being unaware of what she's doing or deriving some masochistic pleasure from her failure. She's a loser and, more offensive yet, she's not an unwitting one. She's too weak to stop being one.
Hollywood has bred expectations that characters like this, in the course of the story, grow from ugly ducklings into swans. Either Emily should realize she's pounding on the wrong door and find a better one to pound on, or Gabriel will suddenly realize what an idiot he's been and finally reciprocate her feelings.
I wrote this story as an experiment in two things: in destabilizing expected narrative structures and in writing a consciously subjective character.
I've been taking a lot of photographic self-portraits this week and looking at them closely, attempting to 'read' myself honestly, to see if I could glean any truths. I have always had an uneasy relationship with my own visual image. Even from a very young age, someone would show me a picture of myself and I would have difficulty recognizing it as me. Of course, I believed that it WAS a picture of me – it's hard to explain – but when I looked at the picture, the me I felt inside and the image of the person in the photograph seemed to be vastly different people. So I go through these phases of refusing to look at pictures of myself, and then taking a lot of them, as if I might cure myself of the disconnect by sheer, bloody-minded repetition. It scared me to think that, if I couldn't authentically acknowledge myself in a photograph, how would I ever recognize myself in a story I was writing? Most writers assiduously avoid 'Mary Sueing' (take the test here to see if you do –  bit of a joke, but fun) but in this story, I set out to do exactly that. When I killed her, I cried. Then I laughed. Then I took the test above and realized I hadn't Mary Sue'd at all.
So I'm back at the drawing board, trying to maintain a level of honesty in my writing. I'm back to taking pictures of myself and hoping the picture to give me some clue as to who this person is.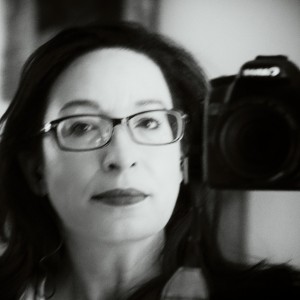 What I see, when I look at this picture, is a woman who both wants desperately to be loved and yet is already wearing the resignation of that scenario's impossibility on her face. She wants to be genuine, but she cannot give up the control that being genuine entails. So she constructs truths for herself, and rules of superficial politeness, and she clings to those doggedly because, without them, she feels the whole of her existence will collapse in chaos.
I've always thought of myself as a person who deals with chaos rather happily, but apparently not.
*From the book "Under the Skin: A psychoanalytic study of body modification"