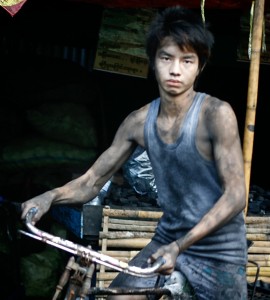 Apparently I said something deeply offensive when I tweeted that, among the many functions that sex serves, one is to see yourself through the eyes of your lover. When it finally occurred to me why the statement might be offensive to some people, it depressed me. It's political, of course. Although I realize it is fundamentally impossible to keep politics out of the bedroom, I often feel it does more harm than good there.
We find ourselves at an incredibly narcissistic point in our history and, god knows, I'm not immune to it (witness my last post). But somehow we've come to a point where we want to believe – and certainly the commercial entities who sell us things that help 'define' us want us to believe – that we make ourselves, and  can completely remake ourselves, that we are the sole authors of our own identities. Or, at the very least, that we have been since we had the agency to stop toddling.
True, the most formative years of our psycho-sexual development occur very young. And having a primary carer who looks upon and touches and interacts with you with the right level of admiration (not too much and not too little) has a tremendous impact on whether you instinctively feel that you deserve to be desired and loved when you grow up. Although the deepest scars to this part of our psyches may be done in early childhood, I still believe that we are not immune or unchanged by later experiences.
The gaze is a paradoxical thing. You cannot see the world without it seeing you back. You cannot gaze into the face of another human being without knowing that you are being gazed at too, and judged. It's a dangerous thing, because they might not like what they see in you. In gazing, you expose yourself to the gaze of others. And you learn to know you are 'other' to them. You learn how to be the object of someone else's desire. Or worse, you learn that you do not inspire desire in them at all – and you learn to live with that truth.
There is a humanist concept: intersubjectivity. It's used in a lot of senses, but at its core is the idea of viewing others as fully rounded, complex human beings like you. Affording them the same complexity, the same emotions, the same desires and needs that you afford yourself. It's a very nice idea and I think it is very possible to do that once you get to know someone well and feel for them. There is an aspirational goal we have been given to be sexually intersubjective as well. I'm not convinced this is possible. I think you can love someone that way, but reality is a string of continuous moments, and I think in the midst of erotic experience, it's not possible. Or rather, it is possible, but then it feels a lot like you're fucking yourself, which offers no risk, no jouissance, no peril, no adventure. And nothing feels as revelatory as knowing you are seen, in all your beauty and all your ugliness, by another, and still desired.
I think we really need our 'other' to be 'other' in those moments. And we need to be 'other' to them. To be strangers and strange, to be alien territory. To be in the erotic company of, not a clone, but an other. And hopefully you are very desirable other to them, and you can see that, feel it, know it in their eyes and their touch and their responses. There is an inherent tension in feeling the 'wrapper' of the other. You can't see through their eyes or taste through their tongue or touch with their skin. You are together and yet you are separate. It allows you the erotic luxury of atomizing them. Of reveling in their otherness and of fearing it also. Because at some point, if things are really good, you get that ecstatic moment when, for just for a brilliant, blinding moment, the wrapper of the other dissolves and falls away. But it is only a moment and then gone; it is what you then seek over and over. Usually, coming up to the point of orgasm, or passed it in that flash of yearning that extends into the twilight past it. A good thing too, because it's far too intense a place to be with all your intellect intact.
It occurs to me that, these days, we spend a lot of time not really seeing. We put labels on the objects of our desire as a way to categorize and peruse them at a superficial level for fear, if we look too long, they will look back at us. It is safe, quick and convenient to classify each other, and the things we desire with meta-tags and 50 years of marketing savvy has taught us how to do it. Look, this is the MILF shelf. Here's the buff but mature and successful man shelf. Here's the butch girl shelf. And the sweet but a geek shelf. We classify each other in our minds so we can imagine we know each other without actually seeing, and avoiding being seen. And it's safer to be one of those labeled objects, too. No one is going to bother judging you in any depth when they can simply classify you. It's quicker.
We have become cowards. We delude ourselves that we have hermetically sealed ourselves in the impermeable packaging of absolute self-definition. It saves us from encountering the gaze which tells us something we don't want to know about ourselves. We self-affirm with masturbatory glee.