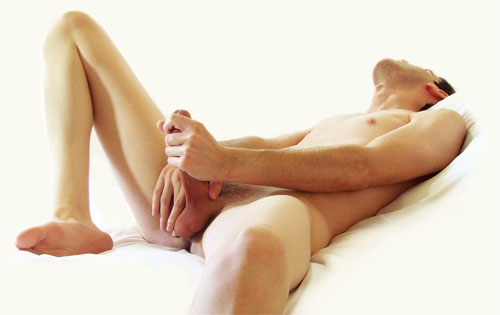 I went on a hunt today for porn for heterosexual women. And I have to tell you, I was pretty disappointed by what I found. I'm not sure whether I'm just a very odd woman, or there is a conspiracy out there bent on denying me what I want, but either way, it's a desert out there, ladies.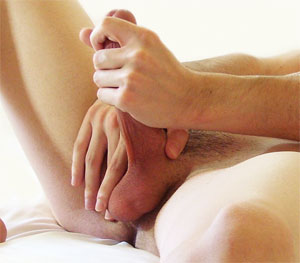 First, I just googled a bit. And unless you are a gay male, you're shit out of luck.  I don't know about you, but I can tell gay male porn. I can't explain why, but it speaks to my chemistry and says – very loudly – this is for another man, not for you. As a woman, it shuts me out. Also, the preoccupation with hard bodies and youth that pervades most of gay porn means that I'm really not seeing anything that turns me on. The other problem is with erection sizes – they are all either WAY too huge to contemplate for masturbatory purposes, or almost pre-adolescent.
Notice that even in the picture I've posted above (which is undeniably yummy) where the fuck is his leg hair? He's shaved, for god's sake! And, not that I'd deny anyone their kink, but shaved legs just don't shout out TESTOSTERONE to me.
Maymay has written a good article on 'Women with Male Gazes', and this took me over to 'Lady Porn Day' by Rabbit Write. Well, I thought, THIS will cinch it! But what do I see? Almost all the banners for Lady Porn Day feature …naked women! Only three even have men in the picture and not a single one has an erection.
How is it that my consumption of pornographic material, as a hetero woman, is limited to artistic pictures of women – WOMEN!!! I'm sure this is sexy to lesbians with a predilection for pre-pubescent girls, but it doesn't do a fucking thing for me.
Here's what happened when I googled 'Porn for Women": www.wannasnuggle.com featuring a picture of a man vacuuming (not a euphemism – that would have been alright). Jesus Christ! I don't want to SNUGGLE! I want some sexy, aroused hot man with an erection in his hand, not this soppy CRAP.
I don't know if I'd describe myself as having a 'male gaze'. I think I'm just perfectly happy to gaze on the male body as an object of desire and I'm not ashamed to admit it. I don't want to be reminded of love, or housekeeping, or happily forever after. I want a nice big pic of a hard, veiny, erect cock that is not in imminent danger of going into another man's mouth. And I'm stunned, because I can't seem to find that unless it's also accompanied by a plasticized woman with fake breasts, Lucite heels and a dangerous manicure. Is that so much to ask for?
A couple of women have tweeted me stating a preference for showing some sort of 'experience' or emotional maturity in the object of desire. And perhaps this goes some way to explaining why there isn't much porn for hetero women. It's pretty hard to show 'experience' in a single still picture. And the whole point of pornography is that it focuses on the physical, not the emotional.
Personally, I don't need the touchy feely stuff. I'd just be happy with a picture of a reasonably hetero-looking male wanking.
EbonyHampl reminded me that Filament Magazine does contain visual eye-candy for women. And indeed it is, and I'm a subscriber, but it isn't porn. It's very 'tasteful' and there's a scarceness of erections there too. I gather from an earlier discussion with them on twitter that it's very hard to get erections printed in the UK.
Addendum: There are two things I feel I haven't adequately expressed: I have nothing against gay porn, but there are conventions within that genre of porn that identify it clearly as being by men for men.
Equally, although there is some perfectly sexy porn for straight men, it also has its own conventions. There is a heavy emphasis on oral sex. It's not that I don't like a picture of a woman sucking cock. It's just that, after the 100th, I'm bored. As intellectually stimulating as the contemplation of sucking cock might be, I don't have a clit in my mouth. I'm sure that men would be bored with interminable close-ups of tongues on clits, too. Hey, we just want our own specific itches scratched.