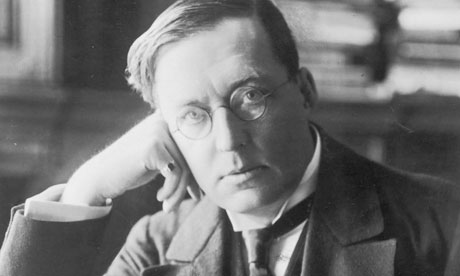 Montague Rhodes James (1 August 1862 – 12 June 1936), was a Medieval Scholar and provost at Cambridge. In his spare time, he wrote ghost stories. Although his prose wasn't terribly poetic, I always thought his sense of place and character was. He was also just a wonderful structural story plotter.
All his ghost stories tend to be of the 'creeping dread' variety, rather than having any shock value. Or rather, the shock, when it comes, is always an interior one.
Most of his stories are available online, in text form at Project Gutenberg.
There are also a number of them in audio format from Librivox
Finally, there are a number of film versions of this stories, mostly produced by the BBC, available on You Tube. Two of my favourites are there: "Whistle and I'll Come to you" and "A View from the Hill"
Whistle and I'll Come to You, My Lad
http://youtu.be/O5cvXdAgmYU
A View from the Hill