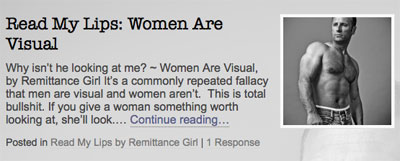 I'm very chuffed to have been invited by Harley Moore to write a monthly column for 4-Letter Words, e-Book Eros' lively blogzine on erotic lit and its readers.
My column is called 'Read My Lips' and my post this month is on the myth that women aren't visual, sexually.
This month also features a fabulous piece by Alison Tyler: "Just Spank Me",  on getting over the need to apologize for being a spanko. There's also a review of the very steamy m/m  "Private Eye" by S.E. Culpepper, and a hilarious set of links to historical hotties.
Please drop by and check it out.