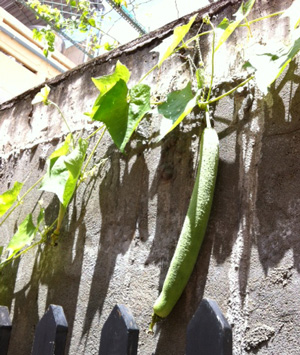 This morning, it was just there. There climbing up the back garden wall. I don't think it was there yesterday. I'm damn sure it wasn't there last week. It arrived while I wasn't looking. I'd dropped my vigilance and there it was, in all its obvious, obscene phallic glory.
Don't give me the 'it's just a gourd' crap. It's an enormous green donkey dick. It's in my yard, acting all virile and fertile and cock-like. It doesn't belong here.
My yard is full of orchids. Phalaenopsis in delicate whites, feathery pale pink Dendrobiums, seductive Cattleyas flushed dark reds. They're beautiful. They're my babies. But I noticed some black spots on the leaves of the Cymbidium. It's the gourd, for sure. It's infected them with something. Or, I don't know, it's spreading the wrong vibes.
When I first noticed the vine climbing up the wall, I thought, 'Hey! That's cool.' Then it sprouted some nice, friendly yellow flowers. Still fine. All good.
Then this. Damn right, I'm hostile.
"If it bothers you so much, just cut it off. Slice it, grill it. Put it in a soup," says my friend.
"Cut it off?"
Is he crazy? I can't just CUT IT OFF. It's erect, for fuck's sake. It's hanging there, unabashedly turgid. Rampant. Just the idea of cutting it off freaks me out. It's not its fault it's a dick. It's not even its fault that it's clearly over-excited. It would be castration! No – that's for balls – isn't it? Is there a word for cutting off someone's penis at the root?
Maybe I could just ignore it. If I don't look at it, it might wither and drop off. I'm not going to look at it again. I'm sure that looking at it only encourages it.
This is a comic, Freudian thing. It's all very funny. There's an hysterical Victorian spinster lurking inside me, having a 'turn,' screaming, sobbing and beating her little fisted hands on the carefully embroidered parlour cushions.
"How many flowers are there on the vine?" my friend asks.
I go out and count, trying not to look at the donkey-dick thing. "Six."
"So, you could be in for a rough ride, babe."
"What do you mean?" I demand.
"Well, you could end up with a whole dick tree."
I ponder the prospect of six more monster cocks in my garden. And, strangely enough, that calms me right down.