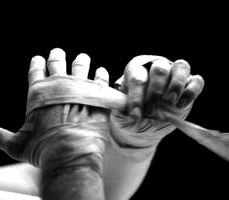 He arrives home worse for wear. Battered and sheepish, a triumphant smile threatening to break through the mask of contrition.
"You're such a guy," I say, trying to look disgusted.
"I know." He chuckles. "We're all just big dumb animals."
The cut on his cheek tears me in two. Right on the bone, the skin has split on impact. Tomorrow the bruising will be spectacular. Tonight, it's swollen plump, angry red and the edges are held together with a thin butterfly strip.
I want to slide my splayed fingers up the back of his skull, fist them in his hair and press my mouth to the cut. I want to taste him. Sweat salted and coppery, the swollen skin is hot and tight against my lips. He smells of metal and spent stress. It makes me want to fuck, to indulge myself in his hurt flesh. At that precipitous, mindless place between the caress and the claw. Hunger and anger. My cunt muscles ache. My teeth itch with formless need.
But instead I pull ice out of the freezer, bag it in plastic and wrap it in a towel. Because the mother in me can't bear to see him in pain.
We'll have steak for dinner. One for him, one for his bruise and one to satisfy my need to bite into something that will bleed and give under the pressure.
"Women are so much more civilized," he says with a shit-eating grin, cutting into the barely cooked meat. His knuckles are scored. The blood has clotted, but if he makes a fist, it won't last long.
All I can think about is sliding my tongue over the knots of bone veiled in ravaged skin. grazing my open teeth across them till he winces and pulls his hand away. I see the cuts break open as he grasps my thighs to spread them. I see the strands of my hair caught up in the sticky thickness of the newly opened wounds.
"Of course we are, love." I put down my knife and fork and sip at the almost empty glass of wine. "So, what does the other guy look like?"