#wankwednesday was initiated by Ruby Kiddell. It's a wonderful writing prompt for erotic writers to tweet and then post their short pieces – written specifically to encourage your hand to behave inappropriately.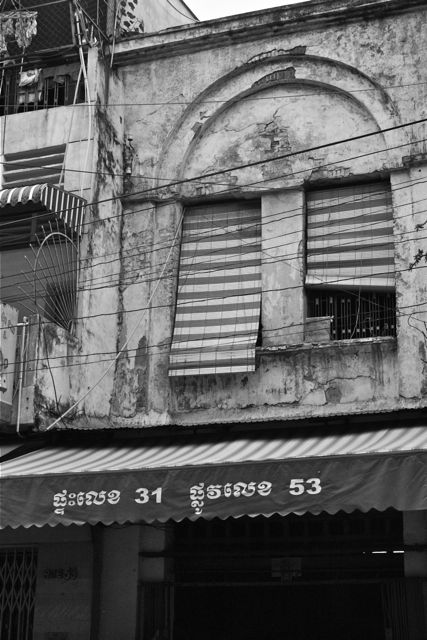 In the close darkness of the tiny cubicle I closed my eyes and listened to the dying cacophony out on the Sisowath Quay Road. How anyone could possibly call this a hotel room was beyond me. It was really a large room partitioned off with sheets of pressboard that didn't even reach the ceiling. That's how I could hear the traffic – through the gap at the top of the wall. It let in sound, but no light. What can you expect for $8 a night?
Just on the edge of a heat-induced sleep, I heard it. A shrill squeak. Weak at first. Then it grew louder and rhythmic. More even, insistent. I knew what it was. Sex has its own distinct cadence, different from any other.
Fuck, I thought. I just don't need this. I really don't. My jaw clenched, my fists balled the damp sheets. I anticipated the moans and exhortations I was sure would follow. But they didn't.
"Jesus fucking Christ," I muttered into the dark.
The squeaking stopped. For a moment there was almost total silence. Then I heard a rustle and a squeal of bed-springs. A disembodied male voice spoke. "What?"
It was a challenge. My mind raced. What could I say?
"Can you keep the squeaking down? I'm jet-lagged and my fan's broken."
"I can't help it. It's the bed. I breathe and it squeaks."
What an asshole, I thought, experiencing an unexplainable surge of temper.
"You weren't just breathing. Take your $12 hooker somewhere else."
A pause again. From somewhere I felt the tiniest tendril of a breeze.
"I don't have a $12 hooker. I was just having a wank. Can't a bloke have a wank in peace?"
I laughed, struck by the ludicrousness of the situation. "Can't you manage it a little more quietly?"
Silence again, and then a few tentative squeaks. "No. It's this awful bed."
"Can't you do it without bouncing?"
"I'm not bouncing."
"Yes you are."
"Not really. It's… the mechanics of it. Sorry."
I sighed up into the darkness. "Well…" I pondered for a bit. "Just… just get it over with fast, okay?"
I heard him take a deep breath and exhale it with a little tremor of angst. "You… you could help."
"Fuck you."
"That would help."
"Fuck you!" I said even louder.
"Could you sigh again? Like you did before. I like that sound. It would help…speed things up."
"Are you out of your mind?" I demanded.
"I don't think so. But I'm definitely horny."
I frowned into the blackness, gnawed on my lip a little. Then, very carefully, I sighed.
The squeaking started up immediately. "Nice. Don't stop."
I tried to put some air and some drama into the next one. Letting out a long, plaintiff sighing breath.
"Oh, lovely." Now it wasn't just the rhythmic squeaking. There was a clearly identifiable sound of moist cock being stroked. "How about a moan? Just a little?"
It was impossible not to picture what he was doing. Although I'd never laid eyes on the possessor of the voice, my mind hatched vivid images of his hand around the shaft of his cock, moving it up and down.
I let out a theatrical, porny moan.
"God… that's brilliant. And again…please."
As idiosyncratic as I knew the entire situation to be, I was developing that edgy itch of lust. My clit ticked, keeping time with my pulse.
Very carefully–because I didn't want him to hear–I spread my legs, pulled my knees up, and slid my hand between my thighs. My cunt was swollen and ripe. My ring finger sank pleasingly between labia into a hot, fleshy mess.
The moan I gave him was less dramatic and more heartfelt.
"What's your name?" The voice asked.
"Shut up and get on with it or I'll stop moaning."
"Okay, okay! So… just keep going, that would be nice."
It was no longer an effort. I'm pretty sure it wasn't even conscious. And quite soon it didn't bother me in the least if he heard my own bedsprings creaking away as I canted my hips to meet my fingers. In that suffocating darkness all I could see was his hand tugging at his cock with delicious abandon. My fingers matched the cadence of his bedsprings, pushing into my cunt with each distinct squeak.
And I wasn't just moaning any longer. I was panting and whimpering.
"Fuck, I'm going to come."
"Then do it. Do it!"
I really don't know if we came at exactly the same moment – I was too busy cutting off the blood supply to my fingers with my inner muscles and twitching like a maniac – but it was damn close.
I rolled over onto my side and wiped my fluids up with the rumpled sheet.
"So…what's your name."
"I'm not telling you. Go to sleep."
"Alright. But … it was good for you, wasn't it?"
"Yeah," I admitted reluctantly, torn between absolute exhaustion and the fear I was going to suffocate on my own scent.
"Goodnight."
"Goodnight."
I got up at six the next morning, had breakfast and went to look for a hotel with honest-to-goodness walls.
_______