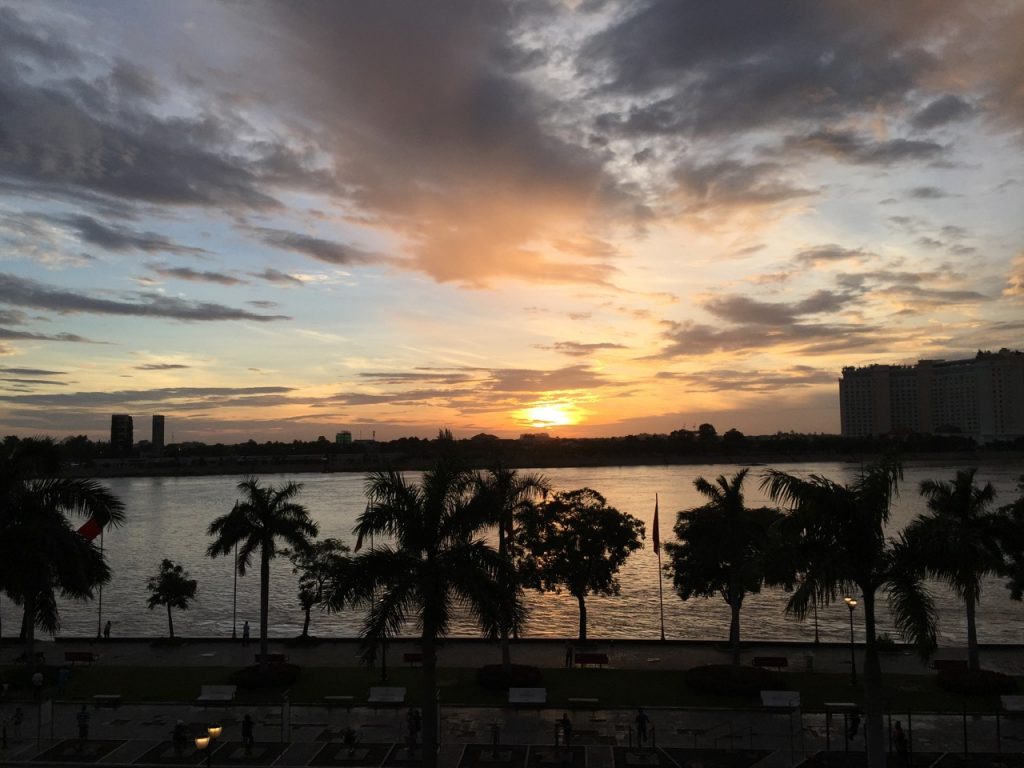 It's always breathtaking. The plunge into the underwater world of humid Phnom Penh. Even within the ramshackle sterility of the airport, the air feels dense and full of fertile smells: durian, urine, algae, damp concrete. Then out past the surly immigration officers and bored, flabby customs officials and into the afternoon swelter of humanity. People coming and going, eating and arguing: the Cambodians neat and crisp in their impossibly white shirts, the tourists sporting an unhealthy shade of heat-stroke red even before they've found a taxi to take them deeper into the strange terrarium of the city.
I always swear I'll forego the tuk tuk for the comfort of an air-conditioned car, but never yet have I managed to resist the charm of tuk tuk driver and the masochistic lure of rapid immersion. The long, dusty ride in from the airport drapes me in a sweaty layer of grime, but driving through the clouds of smoke from sweet cooking meat, diesel exhaust, and cloying frangipani seems worth it. As are the glimpses of kids in school uniforms, monks in saffron robes, and proper Cambodian housewives going about their business. Boys lounging impossibly on parked motorcycles, or playing cards and drinking beer at roadway stalls.
I love this place. I don't know why. For every thing of beauty here, there is an ugly mirror image, for everything graceful, there are a hundred tragedies. Perhaps that's why I love it; Phnom Penh never allows you the fantasy of a holiday for long. It forces you to face the paradox of the sublime, beauty and horror.
So, I come to Phnom Penh to be alone amidst the roiling humanity, to be quiet amidst the cacophony, to be grateful among the street beggars and the alms-seeking monks, to be ascetic amongst its gluttonous foreigners. I come to be enchanted and disgusted, to be titillated by the thought that I am here by choice and have a ticket home.
The hotel room is a cramped concrete box, with a low out-sized bed, a bar fridge and scuffed walls. The city's soul has settled on the cool tiled floor, gritty beneath my bare feet. There's a small balcony that overlooks Sisowath Quay and the brown, silty slug of the Mekong, clogged with water hyacinth and ghosts.
I used to come here as an arrogant Westerner, mindful of Cambodia's history, its madness and carnage, so smugly sure that my corner of the world had learned to stop slaughtering each other. Now I come here ashamed, fearing the West has learned nothing after all. I come here to prepare myself, to remind myself that there is always something after hell, even if it's only a halting, shaky struggle back up to the fragile semblance of civility.