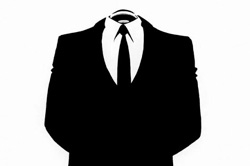 It has been a long time since I have considered my pen name. I started using it back in 1999 on a newsy sort of blog to keep in touch with family and friends when I moved to Southeast Asia. It started as a joke – a reference to a character in George Orwell's 'Burma Days'.  One of his characters was a 'remittance man'. A rogue who'd been sent out to the colonies by his family to stop him from besmirching the family name with his deviant behavior. He was sent a stipend or 'remittance' to live on, as long as he kept away.
When I started writing my first pieces of fiction, I used that name.  It just stuck. I have since published three novels and appeared in over a dozen print anthologies under the pen-name Remittance Girl.
The first time I encountered a problem with the name was when I tried to establish an account on Facebook. I had to append the word 'author' before they would accept it.
Three days ago, I got this: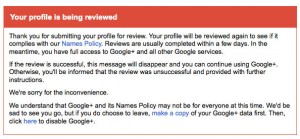 I also got an email Google+ telling me that my name is not acceptable to them. They provided a function to lodge an appeal, and of course I did.  I included links to my blog, my Amazon author page, my Facebook account and my Goodreads author page.  I even sent them photographic copies of the table of contents where my name appears as the authors of published stories. Still no luck.
Why is this so upsetting to me? It's just a pen name, after all. Why don't I quite whining?
I'm not exactly sure how to express this, but Remittance Girl is over a decade of my life. She is all the stories I've written. All the interaction I've had with readers and other writers. She is… me.  She represents me identity as a writer. I can't let her go.
The truth is, as I embark on my PhD, I have had to 'out' myself. Any academic writing I do on the subject of erotic fiction needs to be under my real legal name. That's fine. I've resigned myself to that. But it occurs to me that this disregard for erotica authors' choice of a pen name is a little disturbing.
Why would it be okay if I used the pseudonym of Mary Smith? Why is a pen name that sounds like a real name okay, but a pen name that is very clearly a pen name forbidden?
I chose to keep Remittance Girl because it is so very obviously a pen name. And a lot of published erotica writers do the same.  I'm pretty sure that Violet Blue wasn't born with that name.
So this is my fight to try and keep my name. Not only because it is the name you know me by and the one I've written under for so long, but because having lived with it for over a decade, it has become an integral part of who I am as a person. Being forced to abandon it feels really horrible.  It feels like all these years of me as Remittance Girl are worthless, illegitimate, and disposable.
I would be very grateful if you would consider signing my petition to Google+ asking them to reconsider my appeal to keep my pen name.