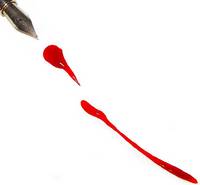 I began to attempt to answer a question in a comment posted on my #indelible flash piece yesterday. I realized that it was too long to answer in a comment box and that I'd have a difficult time answering it coherently anyway. So, to begin with, here's the question:
RG,
Cutting & bleeding seem strange to me, is it really erotic & sexy? If so…why?
Thank you,
-TFP
First off, I need to point out that cutting and bleeding is sexy to very few people in the world.  It's simply not common to be erotically stimulated by either pain or damage to the body's integrity.  There's nothing wrong with you if you don't find it erotic. In fact, lots of people think there is something wrong with you if you do. However, there is an historical fascination with it threaded  through time, so although it's not a common fetish, it's definitely been around for a while and has made incursions into our cultural landscape.
I would have preferred to communicate this in story form, because I think it is the best way to invite people under the surface of something, especially when it's complex and hard to comprehend.  But in this case, I can't write the story without getting intensely personal in a way I'm not yet comfortable with. So, instead, I've tried to organize my thoughts on the subject using a mind-map.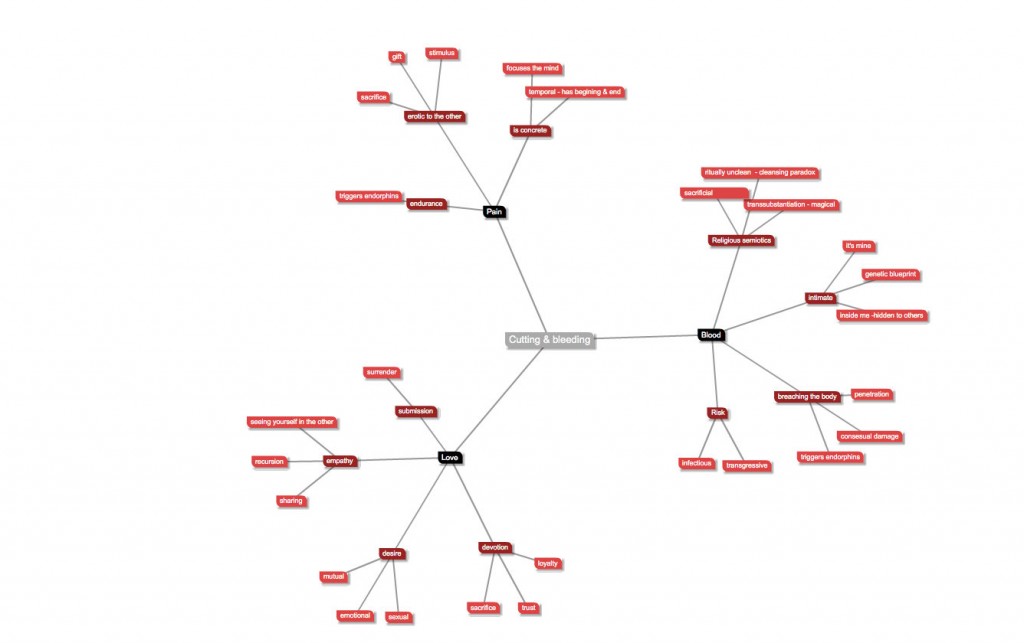 You can click on this to see a larger version.
So, when everyone raves about mindmaps, you can see to some extent how useless they are. They explain nothing. They just map out the subject. But it's a start and I think it contains hints of an explanation. I'd also like to point out that this is MY map of the subject. Someone else's is going to look different – a masochist's, for instance. And certainly a sadist's is going to look VERY different.
I've broken it up into three large areas: Blood, Pain and Love. But I could have just as easily broken it up into emotional, physical and intellectual. The spheres don't align exactly, but it's pretty close. And there are themes that rear their heads over and over again in each of the areas.
The physical stuff is the easiest to deal with and the most quantifiable. Pain, in certain dosages, triggers a release of endorphins that makes you feel high. In many people, so does the sight of your own blood. I wouldn't think it was a very efficient way to get a buzz, but some people really enjoy this way. It's not the main attraction for me, but I can't deny that it's there.
The second easiest to deal with is the intellectual aspect of it. Letting someone cut you is taking a risk – and many people find risk erotic. In an optimum situation, you would do it with someone you trust, and submit to it as an act of trust. Blood, in recent times, has become a very dangerous thing. We are, hopefully, all aware of the pathogens it carries. So letting someone cut you is a risk to both the cutter and the person being cut.
Blood is a very semiotically heavy fluid. It is a lot like semen, in that it's a life essence: if it's not pumping through our bodies, we die. And there is an enduring paradox to it in religious terms: in Orthodox Judaism, blood is a 'ritually impure' substance. That's why menstruating women are considered untouchable and why animals are slaughtered and hung to remove the blood. In Christianity, however, it has a purifying significance. People who 'go to Jesus' are 'washed in the blood of the lamb'.  It also has magical properties. Transubstantiation is the ritual conversion of wine into the blood of Christ, during the mass. Meant to replay the event of the last supper.
In some non-Judeochristian religions, blood is used as a transactional vehicle. A fluid that can act as a bridge between the temporal world and the spiritual one. Hence the use of animal sacrifice in Santeria and Voodoo. I'm pretty sure it has serious symbolic value in other belief systems I have not mentioned. I just don't know much about them.
Why am I mentioning all this? Because I'm a very cerebral person. When I see my own blood, shed by someone else, all those concepts and meanings are present for me. Perhaps not on a conscious level, but sub or semi-consciously, they inform the act.
The emotional aspect of it is the hardest for me to describe. I don't enjoy pain. It doesn't turn me on, but enduring it for someone else's pleasure does. Deeply. This is why having someone offer, for instance, to spank me because I LIKE IT is a total turn off. It's why well-meaning and accommodating people who are basically vanilla just won't work for me. I had very kind people say… but seeing you turned on turns me on, so I don't mind giving you some pain if it will arouse you. It's very hard to give a coherent answer for why I just can't go for that. It's not a general state of arousal that interests me. They need to be turned on by my pain. And, just to add to the list of dumb things I require, they have to love me. The prospect of receiving pain from a sadist who feels casual about me… well, it isn't going to happen.
Why? I think it has something to do with their struggle. It's not too difficult for most people to hurt someone they don't care about. Just look at the Milgram experiments.  But we all have boundaries for ourselves. We don't normally allow ourselves to hurt people we love. It requires an urge of serious intensity to get past those boundaries.
So, I'm going to start using religious terms here, even though I'm an atheist, because our language isn't as rich as it could be in discussing this issue.
There is something about the sin that the person who hurts me commits, and my ability to accept it and them – to love them through it and passed it. That sin on their part and that sacrifice on mine. That is not only erotic but transcendent for me. I get a sense of an intense bond being formed in the act. A union of redemption. As if the act of doing it this way redeems both people in the process.
In reading that explanation, I still fear I am not getting across the eroticism of it. But for me, it's hideously erotic. I'd like to say it's like the world's most intense form of foreplay, but that would be relegating it to a prequel of a main show.  No, the cutting, the pain and the blood are an integral part of it. But during it, or after it, I'd chew through metal to fuck.
I'm not a masochist in the normal sense of the word. Perhaps a better term would be that I have a martyr complex. I'm not sure. Attempting to put a label on it frustrates me and makes me annoyed and defensive. But I guess that's as close as I can get to explaining it all and I still think I've done a really bad job of it. Sorry.
Have I made any sense at all?
P.S. This is an attempt at an explanation for my earlier post and the eroticization of cutting. It is in no way an encouragement or endorsement of this sort of behaviour. Although I don't want to make any judgements about others, I personally believe myself to be mentally ill for craving it.  This is unsafe behaviour and potentially a risk to your health. Yes, you can try to be careful and take as many precautions as you like, but make no mistake – open blades and blood are dangerous. Period.