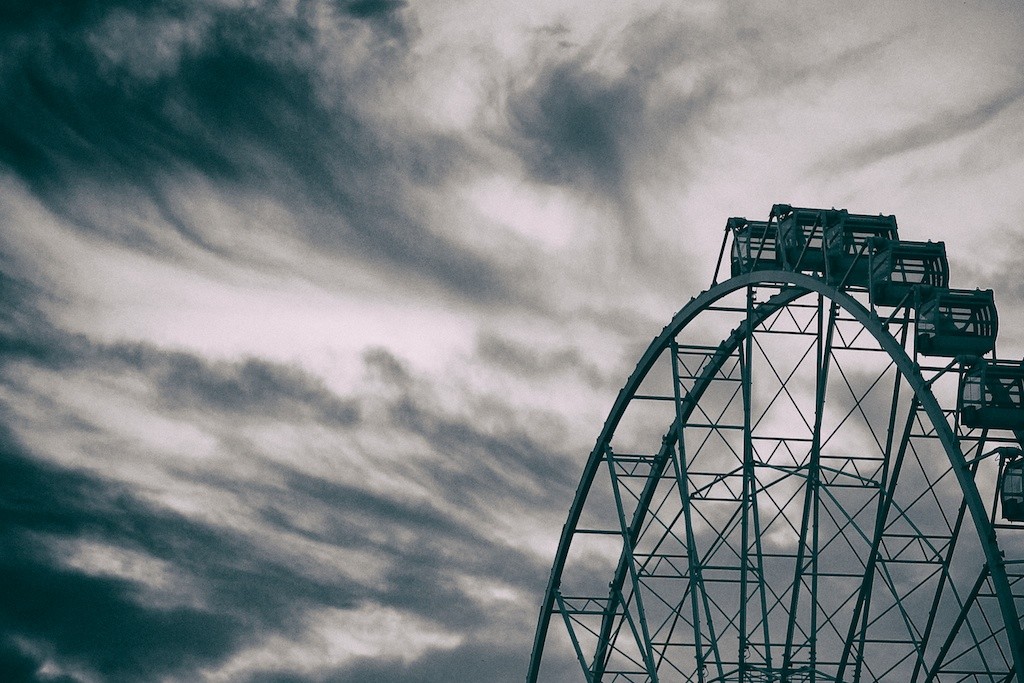 I'm a rabid user of social media – both text and photography and, more recently, I've experimented with Periscope which streams video live. Travelling quite a bit – sometimes for work, sometimes for pleasure – I have an unholy fear of being without a 3G connection to feed the social media beast wherever I go. The upside of this addiction is that you can get to know a lot about a culture just by having to track down a local SIM card. I learned a great deal about Burma and their unique SIM card 'lottery'. In Yangon, I had to visit nine increasingly narrow, sweaty holes in the wall until I found a place that would sell me a SIM card linked to the identity of a Burmese citizen who had won the SIM lottery draw but didn't want to use their card. It felt like stealing someone's identity – well, buying it. I did return the card at the end of my stay. Who knows? The lottery winner might one day change his mind and want to have an Instagram account.
But I digress.
I had a habit of going on long walks, photographing and tweeting the curious things I saw along the way. Sometimes, I'd pick an area to walk based on a theme – for instance – through the Temple Bar in London and wandering around the various historic Inns of Court, photographing their architectural details and ornamentation, trying to capture a sense of the atmosphere, the light, the years embedded in stone, as well as tweeting sundry historical factoids. I did the same along the canal near where I live part of the year in Ho Chi Minh City, photographing the produce laden river-barges and the families who live on them – their dogs, their window boxes, their laundry. Same in Morocco, in Istanbul, in Petra, in Angkor, in Phnom Penh.
I had a manic desire to pull my twitter friends into the place and the moment, the light, the smells, the sounds, and the sensation of the place – to transport them there. It took me a stupid amount of time to realize that this was exactly the same obsession I feed when I write.
Don, my husband, says it's a generosity of spirit, a need to share. But he would say that because he loves me. He's sweet, but wrong; I'm not that nice. Maybe I'm trying to suture up a well of pathetic existential loneliness? Maybe I'm an attention whore?
Perhaps, but I'm a very specific variety of attention whore. On the occassions when, while streaming a Periscope video of the sun rising over the mountains or a particularly crazy rainstorm in Vietnam, or walking through the madness of Feria, someone will comment: turn the camera around, show your face. It's only then I realize that this is what most people do with Periscope – they talk to the camera. They address their 'audience'. The prospect of doing that thing – turning the camera around – engenders a level of revulsion in me that I don't think I can find words for.
I never take 'selfies' (I've taken a few self-portraits when I needed to provide a photo of myself for something or other – a conference, an avatar, a photo requested by someone – but that's a necessary chore I don't enjoy). I don't photograph myself in situ and not only can't I understand why other people seem to need to do this so badly, but the prospect of it gives me a terrible, queasy feeling in the pit of my stomach.
No, it's worse than that. I am gripped in a quiet horror.
When I went down to the Tower of London to see the Poppy Installation created for the centennial anniversary of WWI, I noticed just how many people needed to photograph themselves AND the poppies. Why? Why do we have to be in that photograph? Is it some testament of verisimilitude – see, I really was here – like the non-porn version of the money shot?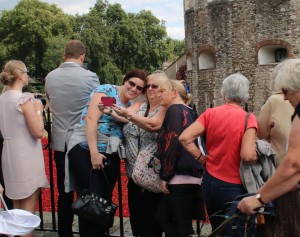 I exclude photographers who take self-portraits as a part of their art practice from this question – of course. But the rest of us. Why? Why do we constantly feel the need to produce ourselves as images for the consumption of others?
Are we not real unless we are remediated? Has the remediation of ourselves become proof of our very existence, our worth, a photographic form of graffiti? "Ned was here!" so Ned existed and did something that mattered? He defaced this monument with a pen knife or, much like a territorial animal, sprayed his dayglo scent all over this ancient wall….or clicked this iPhone button?
I'm trying to understand this, trying not to squirm away from the discomforting answers I'm coming up with.
There is definitely a materialist aspect to it: I am rich enough to own a smart phone and afford the connectivity. Rich enough to have the leisure time to travel to this place. Indeed, according to an article in the Guardian "Forget selfies! The latest holiday accessory is a professional photographer" there is even more opportunity to flaunt one's wealth by paying someone else to produce slicker photographs of you on your holiday, if you can afford it. And the message is: "Look at me! Look how happy I am, how wealthy I am, how beautiful I am." Look at me, love me, envy me.
People have written about the culture of envy and how it plays an essential role in powering the wheels of consumerism. Our need to possess what others have is what gives capitalism its momentum.
Meanwhile, Jacques Lacan identified the curious 'jouissance of the other' – the projected fantasy of believing that someone else has an access to enjoyment that you cannot have – which sets up a strange paradox – a repressed yearning that manifests as hatred and disgust of the imagined, luckier other.
But what we do when we are driven to make constant image products of ourselves is different and, I think, for most of us, quite new. There was a time when only the incredibly wealthy and powerful could commission paintings of themselves. And in the past, the photographic portrait, the family video, the wedding pictures, were made, not for some unknown future viewer, but for the people in the photograph or the film. It was an aide-mémoire, capturing a moment or event for those in the photograph or video as a faithful representation for those involved and perhaps their offspring. People would take photographs of a gathering of people joined by common purpose – an office Christmas party, the 1953 members of the Polar Bear Swimmers Club of Milwaukee. These photographs didn't have a lot of meaning to anyone besides the subjects and perhaps their closest relatives and friends, and, perhaps the members of those families, groups or organizations that came after them.
Those pictures are always like toned down versions of Victorian momento mori – tokens of mourning that contained a likeness, photograph, hair or teeth of a dead loved one. When we take pictures, death is always present in the photograph. If only in the sense that once the photograph is taken, the moment is dead and over. The family holiday snaps contain, in their being, the end of the holiday, the demise of that experience. The existence of a group photograph of the 1953 members of the Milwaukee Polar Bear Swimmers club always intimates that there was a 1954 group and some of the members might have changed. I look at the photographs that Alex Waterhouse Hayward took of me in my youth and, those pictures contain within them the death of my youth, my short-lived beauty, the single intimate moment in which I allowed him to photograph me. Death haunts every photograph.
Mostly, we know about the people who are valued by our society because we see so many photographs and videos of them. They are 'in the public eye' and the public eye has strong emotional reactions to them, either of attraction or repulsion. Is it any surprise we too want to be visible in that public way? There is so much adulation that can go along with high-visibility. And even when that person in the public eye is a hated, a figure of vilification… well, at least they weren't nobody.
But what of those of us for whom the paparazzi does not wait? For whom the cameras do not click and flash? Are we nobody until our image is out there in the public sphere for strangers to see and possibly admire and envy? And what if we aren't beautiful and rich and successful in our fields? Perhaps there is no alternative but to be our own paparazzi and take photos of ourselves? How else to we achieve 'someonehood'?
And yet with an internet full of selfies, millions of nameless images of people in front of their bathroom mirrors making duck faces, or pressed together in a field of friends to show how much we are loved, or beaming into the camera lens at the lively pub, on the sunlit beach, snuggled up with our pets in the sanctuary of our bed. How do we stand out amongst those millions of faces?
Perhaps we take our clothes off, we show our tits, we spread our legs, we masturbate to tumescence and show our dicks. We expose ourselves to the camera and then the world in public places, behaving in ways that are not generally socially sanctioned. But there are so many of those pictures too. How can a nobody compete? Perhaps by streaming the moment of our own suicides, or in the act of destroying the life of another?
In all this, we keep insisting that we don't care what others think of us, that we are being authentic, and yet that image is always taken for an imaginary audience. In uploading it, we are always addressing ourselves to someone else, to the other. There is nothing more distressing that posting a selfie and having absolutely no one remark, like or respond to it.
I don't really know where I'm going with this essay. Certainly, I will post it so that others can read it. Even if I don't take selfies, the writing I post, the photographs I tweet are addressed to another and I, as much as anyone else, do crave that sense of not-aloneness, of recognition that some act of communication has taken place and, by extension, share in the horror of being a nobody.
But one of the things I want to say about selfies and why they cause me so much unsettledness is that I know there must be some, perhaps unconscious and unacknowledged part of us that craves validation from others. It's similar to the act of writing about oneself. It's not that it lacks validity or worth, but it seems like such an enclosed and claustrophobic vista to me. And while we're busy taking selfies or writing about ourselves, we're are doing two things that really trouble me.
First, we are affording the other – the anonymous stranger, the voyeur, the consumer of our social media content – so much power over us. Why would we leave our sense of self-worth (even a fraction of it) in the hands of strangers?
Second, while we're busy taking that selfie, or writing about ourselves, we're shutting the rest of the world out, affording it less meaning. We're not being IN and enjoying the vast sensory landscape the world has to offer us.
In essence, we 'other' ourselves. We produce artifacts of ourselves that we then consume as if we were strangers to ourselves. We indulge in our own objectification. And perhaps that can lead to us feeling unvaluable, unwhole, not enough, alienated from ourselves. Because there is always going to be someone out there who is richer, younger, more beautiful, more privileged. We will never win the competition. So why do we set ourselves up that way?
I don't know. All I know is that, while I still tweet pictures, and I still post Periscopes when I catch something I feel is interesting, and I still post both fiction and non-fiction online, I have started to be conscious of why I'm doing it and what I want from it.
And in posting this, I want something from you. I'd like your thoughts on the issues I've written about.