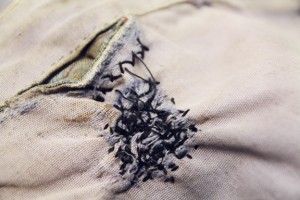 The flat of his furred thigh. The thin membrane between thumb and forefinger. The subcutaneous slug of vein just above a temple.  A finger crooked on the sun-warmed metal of the trigger. The latticework of history. a web that skins his back. The sun-creased corner of an eye. An expulsion of breath that hitches before its limit.
She's made a Frankenstein out of sundry parts the men she's known: some loved, some disdained, some feared, some expended too soon. A towering creature formed from the detritus of others. This patchwork corpse reanimated, not with lightning, but with nouns and verbs and curdled lust.
"Play nice, now," she says, nudging him into the forest of prose.
"Fuck you, bitch," he replies, sitting down naked and seamed, between two paragraphs.
She backspaces and starts again.
With the tendon of a forearm. The tiny fold of skin an earlobe. The absent tail at the end of a crooked spine. The calloused wedge of a heel. The sweat-beaded crevice above a lip. A semi-tumescent uncut cock.  A two-tone voice. The concavity of a buttock past its prime. The temper of a weary taxi driver…