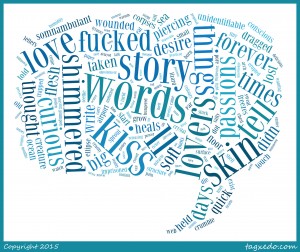 She wished that she had a story to write about lovers who were so taken up in each other that they'd lost all words. Or a story about a passion quick and sharp like a piercing that heals but never completely disappears. Or a love triangle where she was the wounded one, or where the chains that held each to the other dragged them under the sea, mute and moved by currents, each lover a somnambulant creature creeping along an ocean floor strewn with curious and unidentifiable corpses. She'd had each of those loves,  she'd told those stories, and they were much easier to tell.
But this is a love story all about words. Even from the start, there was no interested glance, no hesitant first touch, no first kiss. There were only ever words about all those things.
"Tell me how you'll kiss me, if you kiss me, when you kiss me."
"When. Say when."
"When, then."
"I'll kiss you like breathing. Like the first conscious breath of the morning. Like I'll never stop kissing you. As if the kiss freezes time and we will stand forever in that airport, in that moment, when we kiss, like the first dot of an ellipse."
"We'd grow old in that kiss."
"We would. One day our bones would crumble and they'd have to sweep them up. There'd be no telling them apart."
Words are impossible promises, she thought. Too big and too small. Who has ever had a kiss like that? They only exist where words sprout them into being. They die there, too: the thought trapped in the web of letters, imprisoned in its own structure. Far too big for its boots.
"Skin," he said. "Soft, next to mine. I'll eat your skin like a lizard devouring the shell it was born in."
"How do you know my skin is soft?"
"It is. I know it is. And salty where your sweat has erupted like desire. Every pore stinging a tiny crystal of salt to the surface. When I fuck you, you'll shimmer. You'll arch your back and come, and I'll watch it seethe through your skin."
She shimmered anyway, words stuck to her chest, like paper passions in lurid colours, plumped up and unfurled in the humidity of wanting.  "I believe you," she said. And she did truly believe him, because she came to believe in that curious miracle of the word made flesh.
Sometimes, she hungered for the pain of that impossibility. Not the fucking or the shimmering, but the delicious cruelty of the words, closed tight like buds around the thing itself, never flowering, never releasing their scent, or their pollen.
At other times, all those words seemed too heaving to carry along. Once she didn't talk to him for months, hoping that desire would fade, the way it had in earlier days. She kissed, and tasted flesh and fucked others in the hope that reality would rob the words of their power. But it didn't.
This is the tyranny of words: they can contain inside them so much more, richer and more frightening than anything the senses can perceive. This is the sin. Not the taste of knowledge in the garden, but the abyssal unknown. Not fire stolen from the gods, but the vast longing for warmth. Not the meeting, but the appointment forever delayed.
There is something beyond the practiced proposal, beyond the feral sounds that lovers make in the moment of ecstasy. Beyond all those things are words.