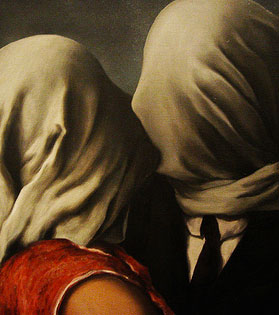 "Don't let him."
"I warned you. Didn't you think I'd keep my word?"
Above her head, the restraints bit into the flesh at her wrists where the bone was close to the skin. Her muscles twitched, her arms flexed, she tugged and winced. At her ankles, the sting was worse and the hard edges of the table legs dug into her shins.
He'd been so fucking sly about romancing her into that position. Just another game. Another whim. I want to fuck you, all tied up on the kitchen table, Daniel had said. And the idea had turned her on so deeply, she'd draped herself naked across it all on her own. Wanting him, wet for him, her cunt throbbing as he spread and bound her legs. The last thing she'd seen before he put the blindfold on was what she now knew to be the frighteningly well-feigned lust in his eyes.
Then reality had swiveled on a dime.
"I always follow through on my threats. You know that. If I didn't, what would they be worth?"
A large, warm hand slid along the underside of her bare thigh and up, over one buttock. Sylvia tried to raise her head up off the table and look back in vain. Even with the blindfold on, she couldn't stop herself. It wasn't his touch down there. She knew it wasn't. And a thick black panic surged up from her belly to her throat and brought the words up in a shrill squeak.
"No! Please. Please. Don't."
"Sh-h. Calm down." Daniel's hand was on her head, stroking it, pressing her face back down onto the cool, smooth tabletop. "What did I tell you I was going to do if you ever came near me with that strap-on?"
"Jesus, I was only joking!" Tears pricked the corners of her eyes.
"What did I tell you?" His voice was soft, closer than before. The warmth of his breath spread across her ear, over her jaw. He gave her hand a sharp squeeze.
"That you'd tie me up."
"What else?"
"And blindfold me."
There was another touch of her ass cheek, a caress, and then the sound of someone lowering a zipper. Her whole body jerked. Every nerve ending screamed.
"No. Fuck! Please. Don't!" she whimpered.
"And what else, Sylvia?"
She heard the more distant rustling of clothing and could not fight back the panic. "Don't you dare do this. God. I'll never forgive you. Never. This isn't a game. Stop it!"
His voice growled low and cold against her ear. His lips pressed to it. "And what else?"
She was silent for a moment. As if keeping back the words would stop it from happening. As if there must surely be some way to make him understand that this was a threat he didn't have to follow through with. That she got it. She absolutely understood. "I promise," she wailed. "I'll never, ever, ever even look at a strap-on again. I'll throw it out. I'll burn it. I swear!" The last of her words were pushed out between sobs.
The other hand. His other hand. The hand that had stroked her hair back off her face grabbed a fistful and jerked it hard. "What else?"
The tears began to stream, soaking the blindfold. She swallowed and then spoke the words. They came out in pins and needles. "You'd get someone else to fuck me."
He released her hair. "Indeed."
She felt him pull away. His fingers slid from her hers, the weight of his hand lifted from her head. The air was full of whispering she strained to decipher. Then a bright stinging slap on her ass.
"She's all yours, buddy."
Again, Sylvia lifted her head off the table and screamed, "Don't you DARE! Don't you leave! You motherfucker!"
Because her mind, which had been so busy calculating ways to make him relent on his threat now cleared enough to remember all of it. "Or don't you keep your word after all?" she demanded with angry desperation.
For seconds silence reigned. Then crinkling packaging. Then a whisper wet sound it took her a moment to identify, and her gut froze. A condom.
Okay, she thought. I can do this. He thinks I'm so fucking weak. Sylvia sniffed and clenched her teeth. "You said that, while he did, you'd stay and kiss me, and call me a whore. Don't you remember?"
Even though it wasn't, it felt like she'd spoken the words to an empty room. There was no reply.
"So… I can take this. But you can't? Is that it?"
In less than the time it took her to draw back the breath she'd just expended, he was back, pressing her blind face with his lips. But it wasn't a warm kiss. It had that chill to it that always embodied him when he felt some inner conflict.
"You don't have to do this just to prove you meant it," she whispered.
His fingers wormed their way into her clenched, secured fist. "Yes I do."
She felt the other man settle one hand on her canted hip. But she wasn't going to think about that now. "I'm scared."
"He won't hurt you. He's just going to fuck you."
"Did you pay him?"
"I didn't have to. So, there's really nothing to be scared of."
"I'm scared that when it's over you won't love me. You'll remember this and you'll feel I betrayed you." She was speaking as softly as she could, as if doing so would render the other man in the room inert, unreal.
"No. This isn't your choice."
"It won't matter. You'll still think it was."
The slightly chill, wet sensation of a cockhead nudging at her cunt lips made her body jerk again.
"No, I won't."
"Yes. You will. And we'll never be the same a…"
Her whole body lurched as the unknown cock pushed into her. It wasn't pain, exactly. The condom was either very well lubricated, or else the man who had just embedded himself into her cunt had used extra.
"Christ! Daniel!" she gasped.
But his hand was in her hair again, stroking it. And his lips grazed her forehead. "Shush. Show me you can take it. Show me what a tough little whore you can be."
That's when the thrusting began. And the pair of hands at her hips dug their fingers into her flesh to hold her still. It wasn't Daniel's cock. Nothing and no one felt like him, fit her like he did.
"I'm not going to come," she said through clenched teeth.
Daniel gave a bitter chuckle. "Sure you will. You always do. You come like clockwork."
For a while there was only the sound of unknown flesh meeting hers, the soft squeak of the table as it shook, and the regular, ragged breathing of the man behind her. Each thrust pushed her groin into the table's edge. And she knew that Daniel was right; if the man didn't finish soon, she was indeed going to orgasm.
"Daniel?"
"Hmm?"
"Take the blindfold off. Please."
He laughed, but it was icy. "Why?"
"You need to see my eyes, Daniel. You need to look in my eyes while you're doing this to me."
"I'm not doing anything, slut. You're the one who's getting fucked by a total stranger. Or is that it? You want to see who's pounding your filthy wet pussy, baby?"
He never called her baby. The word froze her. In it, she could sense with absolute surety his disengagement.
"DANIEL!" she screamed. "Take it off. Now! Take it off!" To the man behind her, it must have sounded like some strange wail of pleasure, but Sylvia knew that Daniel wouldn't mistake it for that. He couldn't. He mustn't.
Sylvia clenched her muscles, waiting, praying. The man behind her groaned in response and began to fuck her harder. The dull warmth of pleasure that presaged her orgasm built inexorably at the base of her spine.
Slowly, she felt Daniel tug at the blindfold and there was light. Light and his blurry face very close to hers. "Look at me, please." A thin little whisper.
At first, he wouldn't meet her eyes. She saw the angry, betrayed child in the man. Then his eyes met hers and she nodded. "See?"
"See what?" he sneered. "I see a slut getting it hard. And I can tell you're loving it."
But she stared at him, willing him to see. "Look at me, Daniel. I love you."
Such awful confusion there. Twin hurricanes. One in each iris.
"You said you'd kiss me. Kiss me and call me a whore. Come on, then. Do it."
She saw him hesitate. She twitched and the first languid shudder rolled up her body. "Kiss me. You keep your word."
Daniel bent down and pressed his lips to hers. They were taut and ungiving at first. But she sighed and sucked at his bottom lip and craned her neck as far as she could, pressing her mouth into his, just in time for the rushing storm of the orgasm to envelope her.
And she knew, absolutely, that he would know this, and know her. Because he'd kissed her a thousand times as he broke her into pleasure. And she'd groaned and keened a thousand times into his mouth. He'd know it for what it was. Surely, he would know.
She didn't feel the man inside her come. She hardly noticed as he pulled himself from her contracting cunt. All she could feel was the hand that cupped her head and pressed her deeper into the kiss.
* * *
For weeks after, Sylvia waited for signs of what she feared most. But Daniel was simply Daniel. Sometimes moody, sometimes silly, sometimes passionate and willful, just Daniel. He kissed her as he always had. When he reached for her between the covers of their bed and poured himself into her body, it was the same Daniel as before.
For Sylvia, though, something had changed. Beyond the serious and almost ceremonial disposal of the strap-on. Because another awful fear began to gnaw at her insides.
She could meet neither the gardener's eyes, nor the chauffeur's gaze. She didn't answer the door to the mailman or greet the housekeeper's husband when he picked his wife up at the end of the workday. She made excuses not to attend dinners with their mutual friends so often the invitations finally stopped altogether. The fear of meeting the man who had done her husband's bidding all but devoured her.
One year to the day, on the anniversary of her ordeal at the kitchen table, she seduced and fucked a complete stranger in the parking lot of her favorite supermarket, with her eyes, of course, firmly shut.