I wanted to try and write something smutty and fun and not too damn sombre. I love museums and it was a trip to one while in London that inspired this. Also, I noticed that I have very few f/m/f pieces, so I thought I'd try another.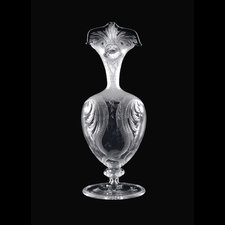 She was rivetingly beautiful. I couldn't help but stare. Admittedly, I watched her progress reflected in the glass of the Arts and Crafts exhibit. Her profile superimposed over a quaint woven basket; her skin tinted the autumn hues of an altar cloth in a rustic pattern. As she drifted into the Art Deco room, the planes of her cheekbones licked the austere lines a striking silver tea set.
I shivered as a single fingertip tripped down the clothed ridge of my spine. "What have you found?" Stephen's voice was a low, playful chastisement in my ear.
"Her," I whispered, nodding my head discretely towards the willowy, dark-haired beauty whose attention was now entirely taken up with a large crystal and bronze centerpiece made almost a century ago for the dinner table of some long dead patron of the decorative arts.
"She's delicious." The warmth of his body pressed the back of mine. Lips brushed my ear. "Are you hungry?"
I smiled, nodded, ran the tip of my tongue quickly over lips that had dried in the still air of the museum. Between my legs, the anticipation of a hunt not yet embarked upon brought blood to my cunt, swelling it to a dull, needy ache.
Still keeping track of the sweet, dark creature out of the corner of my eye, I turned to Stephen. "Shall we see if we can have her for dinner?"
He pursed his mouth in mock consideration then relented into a smile.  "Charm, finesse or full frontal assault?"
"I'm not sure yet." I laced my fingers through Stephen's and pulled him forward through the Neo-gothic room. I wanted to watch her move, read her face in unconscious repose.
The clothes suited her, but they weren't very fashionable. Her long dark skirt covered the tops of a pair of black riding boots. She wore a loose, textured cardigan over a plain burgundy shirt.  As she stooped to take a closer look at a cloisonné snuffbox on display, my eye caught the creamy roundness of one full breast. She turned her head to the side and worried her lower lip with her teeth.
"She's foreign," I muttered into his shoulder. "And alone. Here in the city for a purpose. She looks at the pieces like someone who knows what she's looking at.  What do you think?"
He considered for a moment, distractedly grazing his chin against the top of my head. "Finesse, I think. She'll spook if we pounce."
Casually, I engaged her in front of a set of 18th Century ormolu clocks. Lida, it transpired, was student from the Czech Republic attending an antique restoration course. Her English was excellent but accented. Her 'l's and 'w's unraveled in thick, erotic tangles. Stephen joined us in front of an Empire period gold and claret chaise lounge. It was opulent, gilded, bolsters plump and rounded.
"Hello, darling," he said lightly, smiling at me and then acknowledging Lida with a polite tilt of his head. He surveyed the couch with a laconic eye. "Imagine the stories this piece could tell."
Lida furrowed her brow for a moment and then laughed. It was throaty, rich proof that she was perfectly capable of imagining exactly the sort of things Stephen had in mind. I introduced them and the three of us chatted and made our unhurried way through the rest of the European furnishings galleries.
It was dark and windy by the time we left the museum. The cold had a cruel bite. I watched Lida shiver and pull her big sweater closer around her, and slid my arm through hers.
"Would you like to join us for a drink?" I asked.
"Yes, do. It's been such a pleasant afternoon. It would be a shame to end it now," added Stephen.
Lida gave a nervous smile. Her dark eyes flitted from my face to Stephen's and back. The wind whipped at her lovely black hair, pulling it into momentary echoes of the dark, bare branches of the trees that lined the street.
"I…"
I held my smile frozen in place but my heart raced as she hesitated.
"I don't know. I think, maybe, no. I have so much reading to finish for my course."
The explanation was too long, too complete. At once I knew she wanted to accept, but was intimidated. I opened my mouth to offer some further persuasion, but Stephen caught my eye and shook his head almost imperceptibly. Withdrawing a pen and card from his jacket pocket, he quickly wrote something on the paper and handed it to her. "What a pity, Lida. But we do understand. But…" he offered her the card. "This is our hotel and room number, should you decide to change your mind. We were planning to eat at about nine."
The Czech girl took the card after another moment of hesitation. "Thank you, but… I don't think it's possible for me."
Stephen shrugged as if it wasn't of the least importance. He put an arm around my shoulder, snugging me to his side.
"It was lovely to meet you, Lida," I called as he led me towards the curb and flagged a taxi.
Nestled into the back seat of the dark cab, I sighed.  "You were right about spooking her."
A pair of warm lips pressed to my cheek. "Don't be disappointed, kitten. I'll make it up to you."
Despite feeling let down by the refusal, I smiled and tucked my cold fingertips between his crossed, trousered legs. "How will you do that?"
Stephen gave a little growl. The sound he always made when he was thinking something filthy in public. "I'll fuck you till you can't breathe in a bath full of warm bubbles. Will that do?"
Of course it would. It always did.