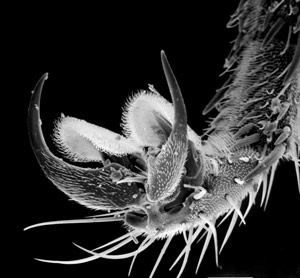 Once upon a time, there was a alien who looked a great deal like a giant insect.
He came to earth in search of a mate. He trolled the bars for a while, but that didn't really go down well. Being very arthropod-like in appearance, he got rejected often, and usually quite rudely. He also tried a number of internet dating sites, using a fake photo, which had better results until, of course, the inevitable meet. When they would turn up, scream and then run away. Meanwhile, the poor alien's biological clock was ticking down. If he didn't mate soon, he would die.
Fortuitously, despite his horrific appearance, the alien was also something of a whiz at fixing computers, having trained on quantum processors on his home world. Earth computers were like child's toys to him. And so it happened that one day, meeting a rather unattractive lady off the dating site, he stood up and yelled: 'Look, I know I'm ugly, but I'm very useful!'
The date stopped and asked: 'What are you good at?'
'Well, I'm very good at fixing computers,' he replied.
She narrowed her eyes and thought, because it so happened that her Mac laptop was doing very strange things. 'Well,' she said hesitantly, 'I do really need someone to fix my computer.'
'Good!' exclaimed the alien, 'I'll do it!'
Again, the woman narrowed her eyes. 'What will it cost me?' she asked warily.
'Just mate with me! Just once.' The alien could tell that, despite being in desperate need of computer repair, she still had serious reservations. 'It'll be quick. I promise,' he said.
'The repair or the mating,' she retorted.
'Both!' he pleaded. For now he could sense that perhaps, at last, he had found someone to mate with and his demise wasn't quite as imminent as he'd feared.
For her part, the woman decided that, although he looked pretty horrible, it wasn't like she was any kind of model herself. And there was also the issue of her laptop. She took him home at once and presented him with the dead Mac.
'Can you fix it?'
Taking the computer lovingly between two of his six arms, he slid his machine mind into the depths of its motherboard, slithered into the CPU, snuck around the software and made a couple of repairs to a few errant B-Trees.
'There,' he said. 'All better. I like the way you construct your directories, by the way. Very sexy.'
The woman blushed, hit the start key and, low and behold, the laptop sprang to life, good as new, except for that funky P key. Well, you can't have everything, she thought.
The alien looked at her with 84 hopeful eyes. Would she, he wondered, renege on her part of the deal? 'So…where would you like to do this?' he asked, tentatively.
'In the bedroom, I guess. Or, we could do it right here on the couch, if it isn't going to take long.'
'Here seems fine,' said the alien. Within seconds, he had her skirt up, her panties pushed aside and, clasping her from behind with all six of his forelegs, he eased his reproductive organ into her depths. Although he was conveniently self-lubricating, it didn't seem necessary, as she was, herself, quite ready.
The mating seemed quick to him, but for her it actually took three and a half hours. Time is relative you see. By the end of it, she had orgasmed so many times, she was on the verge of insanity. And when the alien finally disgorged his sticky, alien seed into her, he breathed a sigh of deep relief and thanked her profusely.
'Oh, no! Thank you,' said the woman shakily, wondering if she'd ever have such good sex again.
They sat down on the sofa and she politely offered him some post-coital tea. While they were sipping their beverages in silence, the woman felt a great flush of heat creep over her body. It wasn't unpleasant, just odd. It happened again, and she looked down to see that she was changing into something entirely different… her body was becoming more and more like the alien's. Her skin became hard, chitin over grew her limbs, and she began to sprout new ones.
'God! What have you done to me!' she screamed at the alien.
'This is how I reproduce,' he answered. 'By making you into something like me. I'll leave if you'd like,' he volunteered with a tinge of regret.
As much as the changes taking place in her body frightened her, the woman also felt an almost unbearable desire to mate again. 'You're not going anywhere!' she growled and mounted the alien.
This time, the mating was somewhat faster, because the woman had changed also, and now their sense of time was more copacetic.
Who says a person can't change?
-the end-