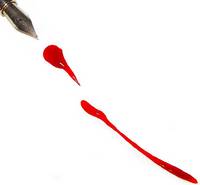 I have commissioned for him a fountain pen
with a nib of surgical steel.
So the obscenities he writes across my back
will last.
He writes the things I am to him.
Cutting each letter into my skin.
Slut Whore Cunt.
Then crosses them out in one long slash.
He scrawls as I scream.
MY slut. MY whore. MY cunt. Mine.
Until that last word and
the press of his cock against my thigh.
I don't love the pain,
but I love what it makes him.
And the flat heat of his tongue
on the bloody pearls that edge the words.
His breath sears my back as he works.
My face a hot mess of tears,
I cry as if it will never end.
Panting like a thing dying.
He sits me up, turns my head to the mirror
and I see:
He has made me a thing of infinite and bloody beauty.
A poem in pain.
Penned in extremis,  for #FuckToyFriday