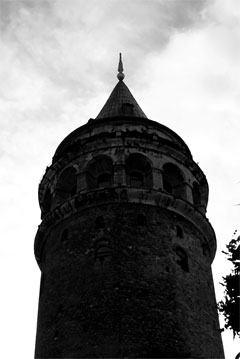 As she passes, I catch the scent and my entrails coil and knot like a ball of newly born snakes. My sister reeks of her despicable habits. No matter how thoroughly she bathes, I can smell it: the stench of peasant seed. All the baths in Persia, all the perfume in Venice cannot cover the stink of her base carnality.
Don't let her delicacy fool you: her oil-soft skin, her gleaming hair, her dainty hands. She sits in her tower with her small foot poised just so, allowing for a glimpse of her well-turned ankle. And they come. They claw their way up the walls like musk-crazed dogs, panting, salivating. Jaws set, eyes on fire for a taste of her perfection.
And instead of maintaining her position and keeping to her own kind, she's gratified by them. She smiles serenely until she has them behind closed doors, and then she lets them at her. All the while feigning disinterest, until their calloused hands are on her immaculate skin and their filthy fingers dig into the flesh of her porcelain hips. She whimpers like a bitch in heat while they drool over her elegant back and disgorge their tainted seed into her womb. And where is her shame?
No matter that she sees them off after she'd sated. No matter that she gives her heart to none of them. No matter their bodies lie, bleeding and broken like so much discarded meat, at the bottom of her tower.
I know. I always know when she's let her mask slip and raised her skirt.
It seeps out her pores, even now, as she takes her seat beside me, as the banquet begins, and the musicians start to play. She'll leave their wretched spend smeared on the flagstones as she dances with better men.
Still, in the candlelight, I can see the quiet creep of time. Her eyes, once sharp and bright, grow muted. There are creases being born in the velvet skin at the edges of them. Her full lips seem, with each day, just a little less plump.
One day, they'll stop climbing the walls of the tower, Sister. One day, the bodies at the base will be nothing but white, meatless bones. They'll rattle in the winter gusts and make homes for sheltering squirrels.
With your appetite devouring you from the inside, and no one begging to sate it, then, perhaps, you won't cringe quite so visibly when I reach for you.
(This was inspired by a piece by Sadistic Excess – not yet blogged. Set me off down interesting pathways.)