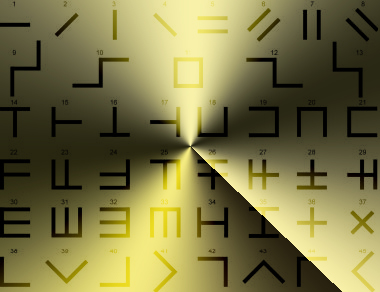 Tuesdays were known as 'Cluster Fuck Tuesdays:' dedicated to assessing system-identified data clusters and strategizing changes to the algorithms when the system spit out nonsensical results. For Tanya, the morning started at five with a run around Regent's Park. When she was satisfied that her blood was pumping, she purposefully tainted it with three espressos downed in quick succession.  It wasn't clear whether this helped her with the results analysis, but it had become a ritual she clung to superstitiously.
It wasn't that her employers didn't value her. Her intuitive talents at identifying causal and counterfactual inferences were invaluable to them at the present time. But Tanya was not stupid. There would come a day, she was sure, when the processors would get fast enough and the heuristics would get accurate enough to render her redundant.  As a child, she'd been a frightening party trick. As an adult, she had a narrow set of skills that, at present were highly sought after. At present, lateral data evaluation required people exactly like Tanya, but it wouldn't last.
By one in the afternoon, the team in the creche had identified five major classification errors, mostly as a result of overfitting. It was part of the job to compile a set of looser ranges for each, but Tanya saw two of them needed additional conditional parameters, and that one should've been trashed outright because it would never come to anything. Naturally, this last started the big argument of the day, which everybody hated. And loved because it was the crucible that made the team's results so fucking good every time. And, most of the time, Tanya prevailed. Even more of the time, she was right.
With very little blood on the floor and no ego too heavily bruised, they sent the results downstream to the real geeks in Room 237, which wasn't a room at all. In the open plan office two floors above them, everyone sported the screensaver 'All Work And No Play Make Jack A Dull Boy.' By four, they had flagged another dozen association rules that might, pending a larger implementation, prove to be productive.
After the depressing evening she'd had the night before, Tanya was hesitant to even glance at the latest product from her more private and completely unsanctioned side project. Not because it hadn't been successful. It had. There had been nothing at all wrong with Jeremy. That was the real issue.  The system didn't require tweaking; it was perfect. She was, she suspected, the unstable variable.
Stochastic variation. Probabilities were always going to be just that, she reminded herself.  So, when she sat back down at her desk with her congealed, half-eaten panini and logged in to look at the results of her latest searches, she was gratified to see one result with a 79% rating.  41, heterosexual, graduate education – didn't say in what, but a doddle to find out.  She never paid attention to height and weight. Everyone lied. Subtract three inches and add 10 kilos and you got something approximating the truth. Tanya preferred them married rather than divorced and there was no mention of his status at all. But she liked the photograph. It was of a man with a handsome, quirky face. A sharp chin and saturnine brows. There was grey coming in at his temples and deep creases at the corners of his mouth even though he wasn't exactly smiling in the picture. Adventurously kinky. Well, well. That might be fun for a change.
The first little frisson came from his account password. It was good and hard. Numbers, letters, symbols. She spent a while simply contemplating the apparent randomness of it. Perhaps he'd used a password generator. But few people did.  She smiled to herself.  Perhaps as she acquired more data on the target, the puzzle of the password would solve itself.  There was nothing much behind the profile except for his credit card and banking details but with that, his postcode and his access logs, she had everything needed to unpack AStine1972. Tanya bit into the soggy remnant of her lunch and brought up his ISP's records.
There was a cute little routine she'd written herself that looked at correlates between television licenses, pet ownership and frequency of international travel.