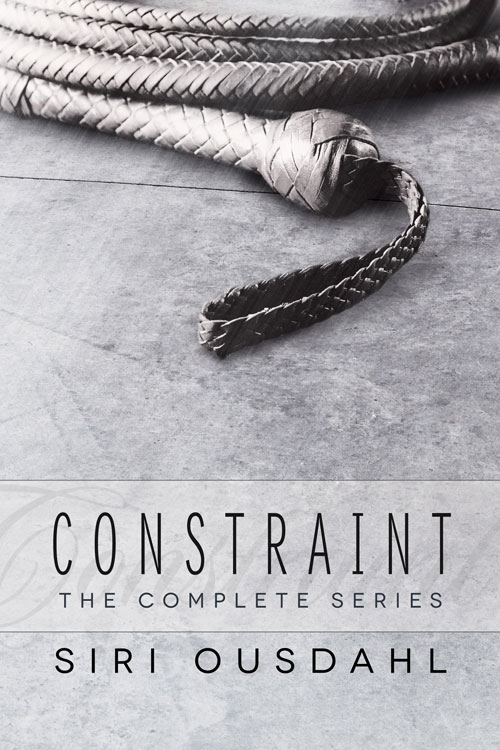 It would be so much easier for the cause of social justice if our erotic fantasies would fall in line with progressive, feminist doctrine; the uncomfortable truth is that they often don't. There are plenty of women and men who live with the uncomfortable inner turmoil of acknowledging that, while passionate and active supporters of gender equality, sex-positivism, inclusivity, and the importance of consent in the real world, they also harbour erotic inner lives that are very deeply aroused by the opposite. This curious dichotomy has always interested me. I've spent the better part of fifteen years trying to understand it: talking to people who recognize this paradox in themselves, reading about the phenomena of internal conflict, writing creatively on the subject myself in an effort to see if some sense can be had from it. I haven't completely solved the puzzle, but I think I've come to a deeper understanding of it.
Siri Ousdahl's Constraint is a fictional work that depends on a very problematic erotic trope: rape. Some use labels like 'dubious consent' or even 'non-consent' but I reject this as a reluctance to broach the matter honestly. The main female protagonist of this fiction–a rather socially isolated contemporary artist named Linnea–is drugged, kidnapped and engaged with sexually against her will over a long period of time. To call it anything other than rape is disingenuous.
Genre and authorial approach have a considerable bearing on an examination of any novel where rape is central to the plot. If Constraint were a thriller where the focus of the protagonist's experience was of fighting her way to freedom, people might consider it an emancipatory text. But this is not the case. If the narrative consistently emphasized the outrage and horror of the rapes in the story, scrupulously stuck to language reflecting moral condemnation of the events, or downplayed the protagonist's changing response to them, it would be far less disturbing.
Not everyone was turned on by lurid imagery of Fay Wray struggling against the vines as a bestial King Kong prodded her, but many were and ashamed to admit it even to themselves. The same can be said for works like The Collector, written by John Fowles and The Night Porter, directed by Liliana Cavani. We have always had a slow but steady trickle of works that addressed the titillating potential of 'capture and ravishment' narratives. These days it's not hard to find 'erotica' novels that exploit this particular quirk in our libidinal fantasies but few do so without glossing over our discomfort with the darkness of it. They often use language, imagery or clunky plot devices that 'softens' or glosses over the immorality and abjection at the core of the fantasy. More disturbingly, the news media makes a great deal of money by addressing our unsettling attraction/disgust response to real life horrors like the case of Josef Fritzl, employing a barrage of moral outrage to obscure the fact that it's feeding an appetite for dark voyeurism.
Constraint is a brave and literary novel because it unflinchingly addresses the reality that, for some readers (by no means all readers), the premise of the novel is both arousing and problematic and problematic because it arouses us. This takes a considerable level intellectual and literary skill to force the reader to own the ambivalent nature of an eroticism that is both arousing and morally reprehensible. And this, in my estimation, is what Ousdahl does. There are no heroes in Constraint, nor are there any excuses. No false moral outrage, no cringingly convenient plot devices that offer the reader shelter, no patronizing, didactic subtext. Nor does the author seek to find cover for herself in pastiche or cliché; the prose is exceptionally well crafted, the imagery is strong and sometimes deeply poetic. For me, the theme of living with paradox and inner conflict runs through the entire novel, in the symbolically forced pairing of uncooperative materials that are a feature of the protagonist's sculpture.
Constraint addresses and feeds an unarguably transgressive erotic fantasy. But what I want to argue is that, counter-intuitively, Constraint would not be effective as an erotic novel if we weren't essentially moral beings. Transgression is fundamentally different from disavowal. In order to transgress a law or a taboo, one must recognize the moral authority, the intrinsic value to society, of the law or taboo being broken. Conversely, concepts like consent would have little importance or sacredness for us if they weren't fragile and vulnerable to profanation. If we had no fear of the taboo of rape, gave no moral authority to the supremacy of consent, this story wouldn't be truly transgressive.
And so we are left at the end–which I will not spoil for you– much like the protagonist: in the uncomfortable position of owning our own paradoxical natures, coming to terms with the fact that what is most human about us is also maddeningly inconsistent. And that we are marvelously fortunate to have a sphere, in fiction, in which to explore the parts of us that are better never explored in reality.
I strongly recommend Siri Ousdahl's Constraint as a piece of transgressive literary erotic fiction: outrageous, offensive, triggering, and very hot. We live in a consumer society that falsely markets 'transgression' as a comfortably consumable product. But anything that can be 'comfortably consumed' cannot be, by definition, transgressive. It is available in Kindle format via Amazon here