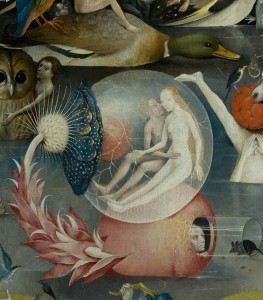 Do you ever get the sneaking suspicion life would be a lot easier if we shut up about our erotic fantasies? I do.
Picture Miss Catherine Thoroughgood: a primly dressed, middle-aged spinster sitting at a window on a cold autumn day, overlooking a bleak rural English landscape, trying to get enough light to darn a rip in her undergarment. It's 1849, her fingers are almost blue, and while she's mending a shift that's seen better days, she's imagining being rudely used by ruffians. With every tiny, neat stitch she makes, she produces another lurid imaginary moment in the forbidden narrative. Dirty, calloused hands on her white skin, her hair in disarray, beery breath against her cheek and, perhaps, someone unseen holding down her shoulders while the main miscreant forces his cock into her. She sighs, shifts a little in her chair, and goes on stitching. The nameless rapist doesn't have a name, and his face changes each time she imagines looking into it. He doesn't beat her to a bloody pulp, or stab her to death once he's had his way with her. He doesn't  – because Miss Thoroughgood hasn't thought of it yet – flip her over and fuck her up the ass.
Luckily, Miss C doesn't have to indulge in long bouts of self-examination about her essential worth or her sanity or her sinfulness or her disloyalty to the feminist cause, because although she is fairly certain a lot of women just like her have thoughts just like hers, she isn't subject to having her erotic fantasies publicly examined and judged as disgusting by all and sundry. She's perfectly free to acknowledge just how filthy they are by her own standards, and gain an extra little frisson of pleasure from it. But on the whole, being the captain of her own internal erotic seas, she can sail them any way she pleases.
I can't cop to moistening over the likes of Christian Grey. I need and indeed produce a delicious villain with more substance and substantially less money. I've never been turned on by wealth, but that's probably because I've always been fairly economically independent. However, my demon lovers tend to like blades. They are driven to cut into my flesh and watch the blood well up against my tawny skin. They enjoy forcing their attentions on me where the risk of getting caught en flagrante is greatest. They fuck me with their fingers in featureless corridors. They watch passively while I fellate them and tell me how bad I am at it, just before they come. They wanna make me beg and laugh at me when I do.
Oh, wait. That's mostly stuff I've actually done.
No, it's worse than that. My demon lovers go down on me and literally – yes, I mean that in the literal sense – eat me alive with forked serpentine tongues and impossibly sharp teeth. They sometimes choke me to death just after I've orgasmed. They break their own vows to have me. They fuck me with a mask on so I cannot see their face. They take me as a child. They kiss me in the gutter and smear me with stinking mud. They pry my thighs apart and penetrate me with ridiculous objects. They kill me so I'll never taste another man. They tease me on broken glass.
These are demons I author myself. They are part of me. They come from my imagination and they do my erotic imagination's bidding.
Yet… it has never once occurred to me to date a serial killer. And I have absolutely no wish to take my leave from this earth. I've had one, very short, bad relationship with a truly selfish asshole, when I was very young and my instincts weren't as good; I dumped him within the week. Other than that, I've had nothing but the pleasurable company of warm, intelligent, ethical men – and women. My erotic fantasies do not in any way reflect a tolerance for entitled, sexist pricks.
Go figure.
Meanwhile, many people's erotic fantasies allow them to cast themselves as the erotic demon, who preys mercilessly and beyond all civil limits on some fantasy victim. I've had a few of those myself. I get off immensely on making my victim weep. Although not as common, I do indulge my sadistic fantasies with great gusto. That doesn't mean I would never let those desires out inappropriately in the real world.
The fantasy demons of our erotic imaginations serve hazy psychosexual purposes. Very often they're twisted nostalgias, puppets to enable us to confront our fears and triumph, agents of ego enhancement or ego destruction, guides to take us places we would not go in reality. But, most importantly, they are ours. They're projections of our own complex inner lives. They aren't rational, or principled, or political. I'm fairly certain, in my own case, they are the paradoxical healers of deep wounds. Just because you can't figure out how my fantasies attend to my particular psychic wounds, doesn't mean they don't.
The difficulty has arisen since we began to speak about them, write about them, make films about them – these shadowy malefactors of our own making. Society has decided to ignore the fact that they are entirely fictional, and primarily authored by women, to beat us over the head with them. As if society hadn't already found enough ways to make women feel bad about their bodies, their skills as lovers, mothers, professionals, their intellects. And how entirely ironic that of all the very real and embodied entities who shame us, it is fellow women who call themselves feminists who seek to shame us the most.
So… this post is a safe place for you, as a woman, to introduce me to your nastiest erotic demon. Whether in your fantasies, you make the imaginary Other the demon, or whether you play the demon yourself. You don't have to use your real name or your real email address. Make it up. I'll never judge you for what you create. Meanwhile, I'd be interested to know what purpose you feel your erotic demons serve for you.