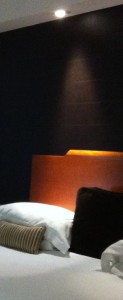 He made of her a thing. Not anything as superficially offensive as a pornographic thing – far worse. Something without even the solidity of image, without even the slippery worm of words. And yet he did not make her nothing because he would not let her go.
He would not let go of her hair.  Not when her eyes began to stream,  not when her nose began to run, not when she gagged and gagged and was sure she'd bring her lunch up all over his groin. Only when something inside her gave way, and she no longer felt responsible for keeping her lunch down, did he let her go.
He let her go because the room was too close. She could not sleep in his embrace, could not pull enough oxygen from the air he'd breathed. Love pressed on her chest even as her hips arched upwards, tricking his fingers deeper. Until her cunt had eaten his wedding ring and she could taste metal through the bloody membrane of her chewed-up cheeks and swallowed the chalky impossibility of it all.
I love you, but, because inexplicably I love in you something more than you—the objet petit a—I mutilate you.
J. Lacan, "The Four Fundamental Concepts of Psychoanalysis"