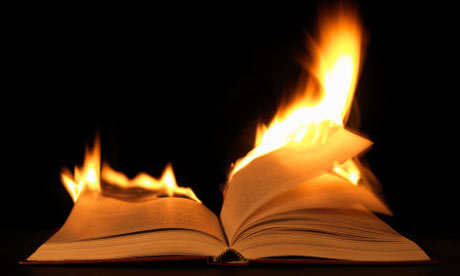 It is easy to get tremendously worked up over the recent and ongoing changes taking place at the various e-book retailers. Many self-published erotica works are being cleared off the virtual shelves of stores like Amazon, Barnes & Noble, Kobo, etc. For more on this read Nate Hoffeider's article: "Self-Published Erotica is Being Singled Out for Sweeping Deletions from Major EBookstores."
I'm not a supporter of censorship of any sort – economic, ideological or social. I'm just a realist. The Western world (which is the only one that even debates the issue of the evils of censorship with any sustained energy or effect) has seen a historical ebb and flow in the value placed on freedom of speech and other attendant, related freedoms.
My guess is that this latest move by eBookstores is purely pragmatic, not moral. That the books they are removing do not earn them enough profit to be worth the legal risks they perceive to be taking in stocking them. And being businesses, their decisions are informed more by their accountants and legal teams than any content editorial decision-making entity. And (yes, you can jump on me for this in the comments) the vast majority of what they are deleting is material that most of the content-based decision-makers are not willing to defend for its artistic merit.
Self-publishing has brought us extraordinary voices we would not have otherwise heard. Voices so new and fresh that the traditional and even larger indie publishers (few of whom have shown a shred of willingness to participate in literary innovation for years) could not spot the value in them. But it has also brought us a mountain of crap, derivative, badly-written, sometimes blatantly plagiarized, un-proofed garbage, its one redeeming quality being that no tree died in its printing.
Moreover, my guess is that these retailers possess no one who has even a basic grasp of the nuances of what might or might not breach the laws regarding obscenity in any given country. And the reality is: they don't have to. Ebook Retailers have no altruistic obligation to the cultural landscape of our society. They have made no pledges to stand shoulder to shoulder with the literary innovators of our age. They're textual Walmarts. That's all they are. And so there is no compelling reason for them to defend anyone's right to sell some self-pubbed ebook that interrupts the smooth running of their businesses.
The minute we started calling music, literature, film, etc. 'cultural product' is the moment we started treating it like a material thing that might be bought or sold on the basis of superficial standards of profitability. And 'product' sellers started selling it. The minute we started demanding that the books we bought should 'do what they say on the package', or slot neatly into genre parameters, or come up to our specific expectations (not as readers, or explorers in the world of fiction but as 'consumers') was the moment we said goodbye to an enduring, nuanced and untransactional relationship with literature.
This issue is not going to go away or get better anytime soon. We have become so consumer-oriented, so intensely market-driven, that it will probably take generations before enough people notice how achingly vacuous our society has grown and do anything about it. And when that does happen, it won't be a happy time either. Because unless there is a groundswell of common sense and critical thinking (when was the last time that happened?), the loudest voices are going to be the ones who think the only place depth is to be found is in some hyper-religious version of morality.
So, for now, I expect that transgressive literature will be driven underground, into the shady byways of indie ebook retailers. These problematic books may not gross enough profit for the major eBook retailers, but it's probably enough for someone smaller.
And so we go back to purchasing our questionable reading material in the electronic version of brown paper packages. Maybe that isn't such a bad thing. I'm not opposed to forcing consumers of transgressive literature to admit that what they're buying is, indeed, transgressive. In fact, I think there's a certain fetishistic pleasure to be had in having to do it.
Moreover, no one is stopping writers of transgressive material from distributing it off their own websites, or in subscription form. And if you really believe in the material you write, as I do, then the loss of what is, for most of us, a laughable sum of money that won't even cover the cost of my cat food… is no loss at all.
Write because you love writing. Write because you have to. Write to be read. Write to speak to the uncomfortable realities of our desires, to the erotic truths that a terminally hypocritical society will not acknowledge.
As a writer of erotic fiction, that's my job. All that business stuff… is just a distraction.