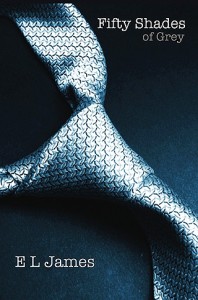 Over on the ERWA Blog, Donna George Storey commented that perhaps one positive aspect of the massive popularity of Fifty Shades of Grey was that women who liked it might then go and seek out books that actually fess up to being erotic fiction. My worry is that they'll read Fifty Shades of Grey, identify it as erotica, and assume that all erotic fiction is as poorly written as this.
For those few of you who haven't read it, the book charts the course of a 22 year-old ingenue's relationship with an older, kinky billionaire. I'm not good at writing summaries, but this was easy because … well, that's all there is. It has all the hallmarks of a mild BDSM romance without the mandatory HEA ending.
I really hate writing a totally negative review, so I'm going to first tell you what is good about the book: it's not very long; it has a secondary school reading level, and nothing blows up. And, to be fair, I think this is a reasonably fair portrayal of the problems faced when a kinky person sincerely attempts and fails to date someone vanilla. Finally, I have to say that the sex, while not brilliantly written, is not too bad. For a mainstream novel, that's refreshing.
Okay – check positive aspects.
I wasn't surprised at all to read that 50 Shades started out as Twilight Fan Fic 1. What disturbs me most about the phenomenal popularity of this novel is that, like Twilight, it revels in the sheer mediocrity of Anastasia, the main female character, and presents us with a male romantic interest, Christian Grey, who is obsessively drawn to that mediocrity. Implicit in its popularity is the disturbing truth that so many women must feel equally mediocre in order to identify with her so strongly.
Anastasia is a 22-year old virgin who has never orgasmed, never masturbated – never gotten to 2nd base, in fact. She's graduating with a degree in English literature but doesn't own a computer. One would think that, alone, would make for an interesting, under-socialized, sexually inhibited and disturbing sort of girl. But she isn't represented that way. She's represented as entirely normal.
22 year-old virgins are pretty damn rare in the industrialized world. 22 year-old virgins who have never masturbated are downright odd and require some explaining. 22 year-old non-masturbating virgins who instantly turn into uninhibited fans of rough-fucking and grade-A cock suckers are simply a pornographic mythology. We need an explanation for Anastasia's very strange sexual development and we don't get one. (And hands up how many of you took to deep-throating like a duck to water).
In that sense, the critics' description of Fifty Shades of Grey as 'mommy porn' are fair; it is 'pornography' in as much as it offers us a heroine who is an unreal and fetishized symbol of sexual innocence.
Admittedly, Anastasia has two inner personas who annoyingly jockey for attention in italics. There's her 'goddess' who is an insatiable and feisty libertine and the Cynic, who keeps calling her a whore. Sadly, either of her italicized sub-personas would have made a more interesting and loveable character.
In the other corner of the ring, we have Mr. Christian Grey: the 27 year-old BDSM-loving, control freak billionaire. Despite the fact that he extolls his own virtues as a canny reader of people, the plot revolves almost completely around how pathetic he is at reading her. He is terminally impressed with her beauty, mental acuity, her snarky mouth and her wide-eyed innocence (charming qualities which are not in evidence in the actual text – maybe he's in love with a character in another book and doesn't know it yet).  He lavishes inappropriate gifts upon her that she supposedly doesn't want but can't stop mentioning. We're told he's a rule-bound control freak who, inexplicably, breaks all his own rules with a frequency that quickly gets boring. We're given to understand that he has a long history of practicing BDSM but shows a jaw-dropping propensity for misjudgement. All in all, very much like Twilight's Edward, it's simply a mystery as to why he is so besotted with the heroine.
I'm not one of those erotica writers who insists that BDSM always be represented as a happy and healthy lifestyle choice. I've met too many people who were drawn to BDSM to fulfill needs that have their origins in a traumatic childhood.  So, it did not bother me that Christian puts his kinky propensities down to early childhood abuse. However, it does bother me tremendously that a character, who has supposedly been practicing BDSM for as long as Mr. Grey, can't tell the difference between a Dominant and a Sadist.
Dominants enjoy controlling the sexual experience of their subs and will give them pleasure or pain – mental or physical – with a view to having an enhanced intimate experience. They don't get off on inflicting pain when they are absolutely aware that it is a wholly unpleasant experience for the submissive. Yes, some dominants do mete out punishment that is not physically pleasurable, but they do it knowing that the sub is getting mental pleasure from the power-relationship.
Sadists are a very different matter.  They do get off sexually and mentally on inflicting physical and mental pain and their ability to be aroused by witnessing or inflicting it it is not associated with the masochist's consent or fulfillment. Now, if you're a sadist reading this and are about to accuse me of defamation, please read that first sentence carefully again. I'm not saying that principled and disciplined sadists don't set limits of consent for themselves and their partners. Many do. But they do so because it allows them to practice their sadism in a safe and ethical manner.  They may be sadistic within consensual bounds and enjoy it. But, if they allowed themselves to inflict non-consensual pain or humiliation, it would still arouse them – even if they felt guilty about it.
This is a major problem I have with the success of E.L. James' novel.  It really does spread misinformation about the subtle but important differences between dominants and sadists. There is no question in the readers' mind that Anastasia is not going to get off, either mentally or physically, on the final belt whipping. And it would take a massively incompetent dominant to think she would. Mr. Grey is a sadist and, for all his pretense at consent, a very inexperienced and unprincipled one. Now, don't get me wrong. A novel about an inexperienced and unprincipled sadist might be very intriguing. But this is not that novel.
It would be fair to say that, in most aspects, this reads like a very mediocre erotic romance. The characters are either uncannily perceptive or staggeringly stupid depending on what the plot requires.  It uses the same tired and annoying plot devices of improbable misunderstandings to artificially heighten the tension. It is a litany of contrived conflicts that beggar the suspension of disbelief of any intelligent reader.
So, I'm going to say something that is probably going to piss a lot of you off: if you thought this novel was entirely brilliant and smokingly erotic, I do have to question your ability to be a discerning reader. The writing is flaccid, the characterization is appalling, and the plotting is downright pathetic.
I can't begin to explain why, with so many brilliantly written erotic novels about BDSM out there, Random House chose to pick up this one.  You have a right expect much more of your kinky erotic novel that this.
You really do.
We're better than this, I promise.