I don't usually write this kind of straight-up erotica. But we've been discussing the shortcomings of D/s representations in 50 Shades of Grey, lamenting the fact that the author felt the need to make the protagonist so absurdly innocent, observing the fact that, for all the BDSM trappings, the sex was strangely vanillaish. Dangerous Sweets posted a very short, very raw snippet of another approach to that kind of dichotomy – a vanilla woman who wants to be with a kinky man.  We played around a little with using POV to turn a vanilla sex act kinky, keeping to scenes that had no toys or obvious trappings of BDSM. So, I decided to try my hand at an act that could easily be a vanilla one, and gave it a rare happy ending while still keeping the problematic of the gulf between vanilla and kink as the central conflict.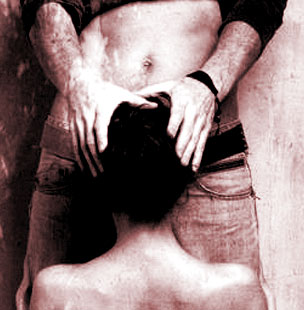 Traitorous muscles rebelled and she gagged again.  Amanda would have apologized if her mouth hadn't been so full of his cock.
"Sh-h." He stroked her hair with infinite patience. "You're doing fine. Just breathe through your nose."
Amanda squeezed her eyes shut, dislodging twin tears. She wasn't crying; it was just the gag reaction that made her tear up.  There seemed no way to stop it.
Shuffling on her knees a little, she made another determined effort as he pushed her head down. This time she remembered to breathe through her nose, but it didn't seem to make a difference. Another spasm gripped at her stomach and travelled up her esophagus.
Gently, but with measured firmness, he pulled her head away from him and looked down at her.
"I can feel the tension in your neck – your whole body, in fact.  It won't go away until you trust me not to suffocate you."
"Jesus, I'm really sorry. I just can't seem to stop it. If you'd just let me give you head at my own pace… I'm really not that bad at it, you know."
He knit his brows and looked down at her. "You're an outstanding cocksucker, Amanda.  But this isn't about a blowjob. I couldn't give a fuck if I don't come. It's about trust. You don't trust me."
That did bring real tears to her eyes. "But I do!" she said, wrapping her arms around his thighs and pressing her cheek to his erect cock. "I really do. I love you."
"Maybe, but you don't TRUST me.  So your body doesn't trust me."
"But… I'd do anything!" she pleaded.  "I'm happy to give you every part of me. Any part of me!"
"I know that, sweet. But you giving is not the same thing as me taking. And I won't take you without trust."
"Take it anyway, I don't mind." She looked up at him.
"But I do."
His words seemed so final. So far away.  Like they'd made an enormous gulf between them. And that scared her more. She didn't want to lose him. She didn't want to let him walk away just because they were used to different ways of having sex.
Robert wasn't a stupid man, or a selfish man.  But he was very much a dominant one, and even if he hadn't told her so, she would have felt it from the beginning. The first time he'd kissed her. The first time they'd made love. The second, the third.  He had held something back and she had sensed it.
He hadn't threatened to walk out. Hadn't demanded anything. But she knew he was never going to stop wanting what he wanted. And that something… the thing he wanted, intrigued her. But it scared her too.  He was right, she didn't trust him. She'd never trusted any man in the way he so clearly needed to be trusted.
Amanda took a breath. "Let's try again."
"Are you sure?" he asked. His voice was gentle, but there was a thread of expectation lurking beneath.
"Yup. You tell me if you feel me tensing up. So that I realize it."
"You know, this really doesn't matter. Let's leave it."
"No!" she said, taking his hand and putting it back on the nape of her neck. "Please, just once more."
And in truth, his hand felt good there. Warm against her skin. His solid fingers creeping through the strands of her hair.  Robert flexed them, stroked her scalp with the tips of them. "Relax, love. I'm not going to suffocate you."
This time she made a concerted effort to release the tension in her muscles. She moved her head from side to side and closed her eyes, trying to consciously relax. "Promise me you won't," she whispered. "Say it, please."
"I promise. I'll know if you can't breathe." Then he pulled her head to his groin, easing his cock past her lips. "Let yourself go limp. Don't give me your mouth. Let me take it."
That was the moment she felt him take over. Felt his cock slide over the hill of her tongue, felt every vein on its underside as he drew back out. At first she could feel him guide her with his hand, but then it simply held her still as he moved his hips.
She breathed, fighting down the need to do something, to take control of it. Instead she enclosed him between her lips and started to suck.
"No…" he said quietly, stilling his hips. "Don't suck. Not yet. I don't want you to service me. I want to take."
He caressed the back of her head, and began to rock his hips again. Slow and sure. "Just like that. Your mouth is mine. Show me that it is."
Something in the way he spoke to her then, something entirely different. It melted her. Freed her. Banished her need to perform for him. His mouth. There was something both deeply erotic and dreadful in that.
"You're doing fine, Amanda. Just fine," he whispered.
His grip grew firmer. The thrust of his hips just a little more insistent. The head of his cock pushed at the back of her palate and she felt the familiar sensation of an imminent gag cinch her chest.
"My mouth, Amanda. My throat. Let me have it." His words were breathy, but the tone was sure.
Then he was pushing into it. Not hard, but with a determined claiming of territory. And it was his to have, she felt.  The urge to gag had receded. She breathed each time he pulled out, only to feel strangely possessed as he pressed back in.
"Good, good girl." His voice was gritty with lust.  "Clever girl."
The word brought her back to a childhood she'd never had. To praise she had craved and never received. And it scared her, that they made her feel that way. The pleasure those words gave her seemed suddenly terrifying, obscene.  Her throat closed up, her muscles spasmed shut.
As if he could read her mind, he paused. It must have cost him. His cock was painfully rigid, pulsing, as he pulled it from her mouth and canted her head up to meet his eyes.
"What were you thinking? Just then. What was it?"
"Those words. The praise. I'm not sure. It felt wonderful and that…"
"Scared you?"
"Yes."
"Because a grown woman shouldn't be so gratified by that kind of praise?"
Amanda nodded. That was it. That was it exactly.
"There's no place here for 'should' or 'shouldn't', Amanda. Whatever you feel: if it's good, then it's wholly good."
She closed her eyes again, letting his words sink down her throat.  There were hesitant valves down there, slamming shut until she coaxed them open and pushed the words past them, deeper still.  Somewhere, just below her solar plexus, they stopped and bloomed in her chest. "Jesus," she muttered.
Robert gave a little laugh. "Are we done for now?" He stroked her cheek with his hand. "You did great. I felt it. Good girl."
The cock in front of her was still slick with her saliva. Engorged and purpled. "No," said Amanda. She felt a smile from a very new place stretch her lips. "If you don't mind, I'd like to keep going."
She tilted her head, and drew his hand back to her neck. "My mouth," she said, licking the tip of his cock, "is yours. Please take it."
He did. This time she didn't gag, or tense, or panic.  She didn't feel the need to fight him for breath.  She simply melted in the strange new sun of his praise.
And when he stilled, buried in her throat, and croaked: "Suck me. Now." She did.
Because she was a good girl – a clever girl – and she knew exactly how to do that. His praise, in response, was a warm gush of pleasure that flooded her mouth and streamed down her throat.
Robert slumped to his knees on the floor in front of her.  She grinned.
"Jesus, Amanda."
He pulled her against him and, with her hair still tangled in his fingers, tugged her into a long, languid kiss.
"So, next time I try to get three fingers inside you, you're not going to fight me, right?"
"No," she said, nestling into his arms, tucking her face into the crook of his neck. "It's your cunt."
"Yes. Yes it is. Mine."