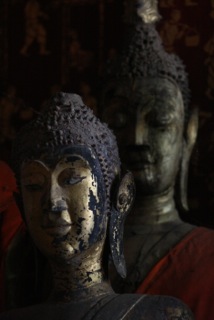 This isn't a new story. In fact, it's the first story I wrote that was ever published. But since the delicious Vanessa Wu remarked specifically on it in her review of my anthology, I thought it was time to repost it.
Once upon a time there was a young man who was handsome and charming and engaged the imagination of all those around him. Like many young men, he was fickle and faithless and bestowed his attentions liberally. He would regularly tempt young ladies of quality into indiscretions, always whispering promises of undying devotion as he relieved them of their clothes, their shame, and then their virtue.
No one blamed the young man for this, for it is the nature of youth to spread its seed as far and wide as the landscape will allow. Although his mother berated him with accusations of heartlessness and threatened him with the specter of social scandal, his father quietly winked at his lusty son and daydreamed nostalgically of his own fancy-free youth.
The truth was, no one blamed Gerald. He was young and rich, with a golden-tipped tongue. Even the young women who fell beneath his spell and were left adrift and weeping in his wake could not really stay angry at him for long. For, it had to be admitted, he gave as much pleasure as he took.
As the years went by and Gerald grew older, many women set their caps for him in the most serious efforts to ensnare him. Ladies feigned that they were with child, or truly believed themselves to be. Others cried that their health could not bear the strain of his departure. Still others thought themselves driven mad for want of his affections.
And through those years, Gerald did become very fond of some of the women he dallied with. There was Lucretia with her fine black hair and laughing eyes, who rode him for sport like a stallion, and Bettina, rounded and luxurious, whose gorgeous mouth felt at once like a deep feather bed and a hot pool of molten rock. There were many, many ladies whom he cared for. And as he matured, he began to feel the burden of the call that pulled him from one pair of arms and into the embrace of another.
One day, while taking his morning ride in the park, Gerald fell into conversation with Bertram, a friend with whom he sometimes played at cards. Bertram was himself something of a self-confessed philander, and the two had enjoyed many evenings out on the town, wooing ladies of stature at supper parties or descending into the darker, more forbidden places, where women were to be had for two shillings an hour.
"Gerald, old chap! If your evening is free, why don't you come along with me to Limehouse? I've heard there are places in that neighborhood where a man can lose more than just his money," Bertram said with a lascivious grin.
"I don't know," Gerald sighed. "Those poor Chinese women look so glum and bedraggled. And they have lice! No, I think perhaps I'll give it a miss, old chum."
"You mistake my meaning, dear boy! We won't be going for the women. It's the opium that is the true entertainment."
Gerald had heard about opium, the blood of the weeping poppy, said to bring marvelous dreams and visions as a man lay smoking and at his ease. This, far more than the brothels, piqued his interest and he arranged to meet Bertram at eight thirty after a light supper.
The evening was cold and foggy. Gerald met Bertram at the club and from there they proceeded eastwards by hackney cab. After a lengthy drive, the carriage drew up in front of St. Anne's church on the Commercial Road not far from Regent's Basin. Across the street stood a decrepit warehouse. The stench of the river was almost insufferable. Gaslight bathed the filthy street and turned the fog luminous in the most sinister ways. Gerald shivered and pulled his collar up around his neck, but Bertram tipped his hat and set upon the door of the building, hammering at it with the head of his walking stick. At first there was no sign of life inside, and two slatterns ambled by offering their wares and giggling.
The eldest and the uglier of the two spoke. "Ya won't be wantin' whot they've got on offer there, gentlemen. That stuff'll make you useless to any woman. The bane of our trade, that stuff is!"
Before either Gerald or Bertram could respond, the door of the warehouse creaked open. Heavy smoke, sickly sweet and acrid, billowed out to join the fog in the street and through it stepped a small, meaty-looking Chinese, who glanced up and down the street and then gestured for them to step through into the building.
What seemed at first to be a warehouse was instead a doss house. Row upon row of wooden bunks held the dark nestled lumps of human forms. As they followed the doorkeeper down a mazelike path, here and there a prone shape would groan or cough or rise from its pallet like some dead creature coming back to life. If the smell on the street had been foul, it was beyond description in the overcrowded press of the room. They were led through a door and Gerald was shocked to find he had stepped, not into some lower level of hell, but into the confines of a very pleasantly appointed sitting room.
A well-dressed woman of some thirty years rose from her place by a cozy fire and approached them graciously. She was the most exotic looking creature Gerald had ever seen. Coils of coal-black hair looped intricately about her head and cascaded down a creamy neck, settling prettily on a generous and smooth-skinned bosom. From her eyes, Gerald could see that there was oriental blood in her veins, but it was the color that was astonishing. She had irises as blue as cornflowers and the largest pupils he'd ever seen.
"Welcome, gentlemen. Such an unpleasant night to be out and about. I hope that we can afford you some amusement here and make your journey worthwhile."
Both men stepped forward to take her hand and introduce themselves. The delicate hand that Gerald took and held as he spoke felt like something made of fine, unglazed porcelain. "And to whom do I owe this very great pleasure?"
"We use no names here, Sir. For the adventures we begin from here might take us anywhere, and make us anyone. But for the sake of expediency, you may call me Mai."
"You are most charming, Mai. I do hope you will be patient with us." Gerald smiled his most seductive smile at the stunning woman before him. "We are uninitiated to adventures you refer to."
Mai returned his smile, her lips turning upward with good humor. "I see. Well, gentlemen. Please follow me. I shall act as your guide, if you will allow me, on this first journey."
She led them through a set of carved doors and into a dimly lit room beyond. This room was far more oriental in decoration. Low, velvet couches lined walls hung with silk tapestries. Upon them scenes of craggy mountain peaks and rampant dragons, mists and lonely trees, long lianas gathered beneath peaked gables, all set tinder to Gerald's imagination. Above them hung lanterns with etched and painted glass windows, splaying soft and varicolored lights about the room.
Mai clapped her hands softly and, from behind a tapestry on the far wall, two silk-sheathed eastern nymphs minced forth on tiny feet and led each man to his own couch, urging them to lie upon them.
"Li and Ping, prepare the pipes, please."
Gerald stretched out on the divan, feeling awkward to be recumbent in the presence of a lady standing. For, although their hostess was certainly no gentleman's daughter, still he felt himself to be in the presence of someone who deserved his politeness and respect.
Mai seemed to be very much at home. She stepped delicately to a low table supporting two bronze lions in the Chinese style and put the flame from a small oil burner to three slender sticks of what Gerald learned later to be incense. Then, when the sticks were sending up hair-like tendrils of sweet-smelling smoke, she took up a small metal rod and struck it against the body of one of the lions. It chimed sweetly.
Gerald watched all this with fascination. He was beginning to think that this was by far the most amusing evening he and Bertram had ever shared. He noticed his friend was distracted watching the two imps in the corner as they gathered sundry objects onto raised trays and came back bearing them with grace.
"If you please, sir, I would ask you to allow Ping and Li to prepare your pipe for you and attend to your needs," Mai said to Bertram, who was trailing an idle finger down Ping's silken thigh.
Gerald could tell from his friend's visage that the proposal pleased him very much indeed. Even more gratifying still, he understood that this meant he would have Mai's attentions all to himself. He watched Mai bend to pick up the second tray and bring it over to him. He could not see the feet beneath her evening dress and it seemed to him that she did not walk, but floated towards him instead.
Before his divan, she lowered herself onto a rich oriental rug and set the implements beside her kneeling form. Now he had occasion to look at the objects on the tray, the most remarkable of which was a long, slender bamboo pipe with round, covered bowl at one end. Also on the tray was a shallow black dish containing what looked like black marbles, a tiny, lit burner, and a thin metal needle of some length.
"Now sir, shall I amuse you by telling you your future while I prepare your pipe?" she asked slyly. She took the needle and pierced one of the black spheres and began to play it back and forth over the flame of the burner.
"Oh, by all means," replied Gerald, amused.
"You will take a long journey…"
A thick pungent smoke began to rise from the skewered sphere. Mai transferred it to the pipe and held it out for Gerald to take. He made to rise from his recumbent position to receive it, but she indicated that he should remain lying down. He guided the pipe's mouthpiece to his lips.
"And you will meet a mysterious raven-haired woman…"
She guided her end of the long pipe so that it sat above the flame of the burner and inhaled deeply, her breasts rising most attractively in her elegant bodice, encouraging him to follow her example. He sucked deeply on the pipe.
"And your life will be changed forever."
Thick, choking smoke billowed down into the depth of his lungs causing him to pull the pipe from his lips and expel it in a fit of coughing.
"Yes, the first inhalation is something of a shock. The next will be easier to take. Pull the smoke down into your chest and hold it inside for as long as you can." She smiled, assuring him. Her eyes fluttered and slid half-shut. "Be assured, once you have the knack of it, you will not remember how you ever found it unpleasant."
Gerald nodded and took another deep pull from the pipe. She was not lying. This time, the smoke slid velvet-like down into the depths of his lungs and, although he had the desire to cough again, he fought it and held the vapor in. It seemed the smoke lay in his chest for a while and then floated upwards within his body until it filled his eyes with tears. He expelled it in a sinuous stream.
"Again," Mai urged. And again he took in the poppy vapors. A feeling of utter warmth and peace drew itself around his body like the softest blanket. He gazed heavy-lidded at the woman in front of him as she turned the pipe around and took a deep draw on it herself. After several bowls of opium, Gerald closed his eyes.
Time drifted sideways like an overladen vessel floating downstream. The sound of his own breathing; the hissing of the opium resin as it bubbled, viscose in the pipe; a slow, low drum beating inexorably in his ears. Everything was before him; everything was within his grasp. All the joys and travails of the world seemed as nothing now, inconsequential in the landscape of his existence.
Images, memories, songs came whirling up, lending each other meaning. The faces of women he'd been with, the taste of them, the timbre of voices raised in laughter or hoarse with ecstasy, the warm wealth of their bodies and the redolent scents of their pleasure. It made him sad, not in a painful way, but the memories of each of them filled him with pathos. The arch of one's back, the tender shudder of another's coming, and hunger. What boundless hunger for something more than what they had made together…
In the midst of these dreams, Gerald felt warmth against his cheek and reluctantly opened his leaden eyelids. Mai's face rested near his, perched beautifully upon a white arm. Her face was in repose and yet somehow still imbued with energy. Gerald perceived a distinct glow about her head, deep gold like a halo. Suddenly it seemed very important to enter that light. He reached out lazily and pulled her head close to his, until their lips met, and he felt a molten river flow between them where their skin touched.
The gesture roused her. Her eyelids fluttered half-open and he felt her smile against him. Without breaking contact, she moved onto the divan beside him and stretched out along his body. At every point they touched, even through the damnable layers of her gown, Gerald felt a storm of passion, as if every inch of his skin had an appetite of its own. It was a strange hunger that built, as he kissed her lips somnolently, tasting the bitter taint of opium on them and idly he regretted that, between his legs, his cock had not stirred at all.
They kissed for what seemed like hours. Gerald tasted every part of her face, her neck, the broad expanse of her chest. He longed to taste the rest of her, but somehow, he could not summon the energy to undress her. And she responded in a similar fashion, plucking motes of his skin between her moist lips, nuzzling his cheek and neck, threading and rethreading her fingers through his hair.
Then, by stages, oblivion. When he awoke, only Li and Ping were there. They offered him tea and informed him that Miss Mai had retired, and his friend had left.
* * *
Gerald returned again and again to the opium den in Limehouse. Each time, Mai was gracious and each time she saw to his pipe personally. But every time he awoke, she was gone. One night, just as he was about to smoke the pipe, he changed his mind and refused it.
"I want to lay with you. Awake. Without the opium," he said.
Mai settled the rejected pipe back onto the tray and looked at him impassively.
"Please," Gerald pleaded. "I will pay you–whatever you ask."
She cocked her head and smiled. "I am not a prostitute; I do not require remuneration for my intimacies."
"I must have you–all of you. Just for one night."
It seemed to Gerald that Mai considered his request for a moment. Finally she rose and held out her hand. "Very well, if it means so much to you," she said laughingly, as if he was asking for something of no value or of lesser value than what she had already given him.
Never had a woman agreed to his attentions so lightly. It shocked him, and yet it stopped him not a moment. He rose of the divan and, taking her hand, allowed her to lead him past the tapestry that covered a passageway at the end of the room.
The bedroom she took him to was not as luxurious as the den. Neither was it oriental in any way. It was a plain, clean room with a bed, a wash basin and an oil lamp that gave off a soft glow. She bade him sit on the bed and stood before him undressing. The layers of clothing fell away into multi-colored puddles at her feet. He watched entranced and mute as she disposed of her dress, her petticoats, her corset, and beneath it, a thin cotton shift which she pulled over her head.
There was no shame in her and no guile either. She allowed him to take in her nakedness, from the plump globes of her breasts, the dusty nipples, the long slender line of her belly to the dark nest of hair at the top of her thighs. Then slowly she turned, and he sighed at the glorious bow of her back. At the base of her spine, just above her buttocks, Gerald saw a dark stain like a birthmark. He reached out to touch it and heard her laugh. She stepped backwards, towards him and into the light. It was a black dragon, a tattoo.
Gerald slid his hands over the softness of her bottom, pulling her closer to him by the hips. He lowered his head and pressed his lips to the dark, tangled picture etched into her skin. She moaned then and arched her back, and suddenly she was in motion.
Mai turned to face him, pushing him backwards onto the bed. She crawled over him like a child, tugging off his jacket, fumbling with the buttons on his vest. Clawing and ripping at his shirt and his trousers, she was frenzied in her movements, as if now her life depended on reducing him to the same state of nakedness that she herself was in.
She was like no other woman he had ever been with. She didn't simper or giggle or blush and, although he would have liked to believe it was he who seduced her, it would have been untrue. Her desire matched his in every way. Once he was fully unclothed she set upon him like a beast. He reached out for handfuls of her as she moved over him, kissing him here and there and everywhere. When she reached his cock, blood-engorged and pointing towards the heavens, she took it into her mouth, laving it with her tongue, sucking and stroking it.
Gerald thought he'd died. For a moment he lay upon his back, paralyzed with the pleasures offered by her attentions. Then, hungrily, he pulled her body around until she loomed above him, the wet hairs of her cunt glinting in the lamplight. At first he planted delicate kisses upwards, hesitant to offend her. Few women, in his experience, were amenable to this sort of activity. But Mai was different. His first hesitant forays were encouraged as she lowered herself onto his mouth, shuddering as he stroked her inner lips with his tongue.
Taking hold of her hips, he pulled her down onto him firmly and pressed his tongue up into her passage. She stopped her energetic attentions to his cock and groaned. Her hips rolled, her thighs shivered and after her initial need for pause, she once again took his cock deep into her hungry mouth and fed. Then, several minutes later, she rose up off him and held herself stiff for a moment before letting out a plaintive cry and collapsing onto him in a series of beautiful convulsions. Her liquids spilled out of her, covering his face. She tasted like opium: sweet and dark.
Now Gerald could no longer hold himself back. He turned her onto her stomach, and lifted her hips to meet his throbbing, weeping cock. Entering her was exquisite, her passage fiery hot around him as he forged into her. It was then she turned her head to look back at him. He saw her parted lips, wet and red, her eyes cerulean and dilated, and such hunger…such terrible hunger.
She met him thrust for thrust as he fucked her, spreading her legs wide to take him in as deep as he would go. Gerald slowed his pace, to bring her to peak again before he finished, and she made a low, rumbling noise that came from deep in her throat. She was his animal or perhaps he was hers. For within a few strokes, she wriggled away from him and turned around, pressing him back onto the mattress and climbing astride his hips.
As she lowered herself to engulf him, Gerald realized that he had dreamed this many times while drifting on clouds of opium: the vision of her taking him in like this, impaling herself upon his cock over and over, the sweetest of self-made wounds. He pushed his hips up to meet her, and each time, it set her breasts trembling. He reached out to touch them as she rode him. He squeezed and rolled them, finally taking her nipples between his fingers and pinching them hard. She whimpered and rode his cock harder still. Finally, he could not wait any longer. He sat up, buried his head between her breasts and grabbed her hips, goring into the depths of her body as he erupted. Mai wailed and wrapped her arms about his head. The hot flush of his come had brought her to her own little death.
For a long while afterwards, she did not move and did not release him, as if she could not bear to feel herself emptied. Then they lay side by side and, as drowsy as Gerald was, he could not stop touching her in all the places he'd dreamed so long of touching.
Suddenly a terrifying thought came over him. He could not imagine himself with anyone but her, he didn't want to be without her, and yet he knew himself too well. His own hunger would lie dormant for perhaps a week or two and then it would begin to gnaw at him. He would proclaim his love to her and, at that moment, he would mean it with all his heart. But slowly the bit would chafe, and as much as he cared for her, he'd be off looking for someone new.
Not this time–not this time, he swore to himself. His muscles seized with his own resolve.
"What is it that worries you?" Mai asked, her voice drunk with sleep.
Gerald considered lying, like he always had. But this time it would be different, he insisted to himself. He stiffened his spine and began to tell her everything. His faithlessness, his inability to be happy with one woman, his insatiable drive to delve into new flesh–just the telling of it made him miserable.
"I don't want to be like that anymore," he said. "I don't want to be with another woman, ever again and yet I don't know how to stop myself." As he said the words, he knew just how deeply he meant them. The knot in his throat grew, making his voice tremble. Tears pricked at the corner of his eyes. "I never want to do this, ever again, with anyone else," he sobbed. "Only you. Only you Mai." He reached for her and pulled her snug against him and buried his face in her silken black hair. Then he cried like a baby. For shame, for want, for all the things he could not have.
"Is this truly what you want?" She pulled her face towards his and looked at him with great concern. "Truly? Will it make you happy?"
"Yes. It's truly what I want. The only thing I desire."
Gerald fell asleep, Mai's head on his chest, his arms around her warm form.
When he awoke, it was to the sound of a door creaking open. He looked up drowsily and saw Mai, clutching a robe around her body. She smiled and walked towards him. It was only then that he saw she was not alone. The short, stocky coolie followed her into the room and stood at the foot of the bed. Gerald had never noticed before how old the man was. His thick, solid body belied his age, but looking into his face by the light of the lamp, Gerald could see that he was quite ancient. In his hands he carried a covered cup.
"Gerald," said Mai, sitting on the bed next to his prone body. "Are you sure that what you told me is what you really desire?"
Gerald sat up and took her hand in his. "Of course it's what I want. More than anything."
She looked at him again, her eyes demanding the truth. "You are absolutely certain?"
"Completely."
Mai turned and took the little covered cup from the old coolie. She spoke to him in a respectful tone and he answered her, not as a servant, but with authority. Gerald could not understand what was said. They were speaking in what he assumed was Chinese.
She turned back to Gerald and offered him the cup. "Then drink this and you will have what you want." For a moment, he hesitated. Not because he wasn't speaking the truth, but because suddenly he wondered whether this wasn't some kind of foreign poison. He lifted the little lid and inhaled the steam rising from the liquid in the cup. It smelled sweet and green, like flowers.
"What is it?"
Mai smiled at him and his heart flushed with emotion. "It's tea. A very special tea. An ancient recipe."
"What is it made of?" asked Gerald.
"Roses. A rare and special rose."
Gerald raised the cup to his lips and let a little of the warm liquid trickle over his tongue. Rose–that was exactly what it tasted like. Rose petals. He tilted the cup up and drank the tea down in one draft. He waited to see if he felt anything, any dizziness or unsettledness, but he felt nothing at all. Just sleepy and warm.
Mai returned the empty cup to the coolie and accompanied him to the door, listening and nodding to the old man's unintelligible words. Then she closed the door, and came back to the bed, allowing the silk robe to slide off her bare skin. She climbed into bed, nestling against him. Gerald sighed contentedly and slipped into a deep and dreamless sleep.
In the morning, he awoke to her movement in the bed next to him. He smiled to himself and pulled her tight against him. Gerald felt the first stirrings of lust as he pressed against the warmth of her bare skin. Brushing her hair off her sleeping face, he kissed her cheek, and then her nose, and then her lips. They moved into a smile, returning his affection.
His fingers traced a line along her body, from her smooth shoulder, over her arm, the concave sweep of her waist and the peak of her hip. She stirred and mewed drowsily, pressing back against his cupped body. Gerald gazed a path to the silken triangle between her legs and gently eased his fingers through the curls, feeling the wonder promise of her moistness as he parted her nether lips. Mai moaned, and opened her thighs to his touch and he obliged her by sliding his fingers into her cleft. She was so wet…so utterly ready for him.
Between his own legs, he felt his cock wake and become turgid against his thigh and, for a few moments, he applied himself to stroking the wet folds of her cunt. But gradually he began to feel a distinct itching in his own groin. Yes, his lust was pricking at his loins, but it felt, somehow different. In fact, the itching became quite maddening and he left off his attentions to Mai and pushed his hand between his own legs, intent on quieting the discomfort he felt there.
As his hand closed around his cock, he felt a cruel, sharp pain in the palm of his hand, as if he'd been cut or bitten. Immediately he drew his hand from under the covers and looked at it. There was a small, deep cut in the centre of his palm. A droplet of blood welled and ran down the line of his palm and onto his wrist. Fear seized him and he frantically pushed back at the bedclothes and stared down at his own naked form.
Nestled between his thighs lay his softening manhood, studded with sharp, dark thorns. At first he thought they had pieced him, and he gingerly fingered each node. But the thorns weren't angled inward. They weren't piercing his skin. All along the shaft of his penis, they grew outwards.
Mai stretched and rolled over to look at him. "Let's smoke," she whispered.