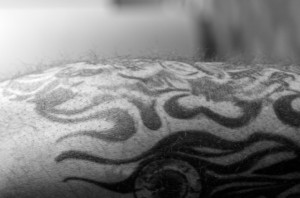 His thick, inked arm felt like a fleshy cage, trapping her in the bed. In earlier days, it would not have occurred to her to wonder, but age had made her more civil: how long would she have to lie there before it was polite to scramble out of the suffocating warmth of his embrace, get dressed and leave?
Social awkwardness made of her a badly tuned engine, lurching forward in fits and starts, and underneath it – the cause of engine failure – the tar pit of claustrophobia, forever bubbling thickly beneath the surface. The dark crimson and tepid beige of the room's decor. The acidic recessed ceiling lights. The smell that screamed 'this is a hotel', overlaid with the scent of spermicide and latex and sex and sweat.
She could not stand him now. This kind, good-humoured man who had, with skill and admirable stamina, relieved her several times of the burden of a decade of abstinence. Now, in the airless aftermath, with a sore cunt and muscles reverberating from successive orgasms, she needed to be gone. Gone from him, from there, from the memory of being so exposed, so penetrated, so masked, so covered, so frozen and unmeltable.
She'd chosen him because he was unavailable. Because they had very little in common. Because he had no tricks up his sleeve to turn her perverse wheels, no voice to reach past the tangle of razor wire. Because he had no way to touch her, and never would. She had chosen him because he had the wrong-shaped mind.
For all her care in choosing, there was flesh. Human heat, pores, the taste of saliva and come, breath on the back of her neck. Flesh, she had forgotten, had a terrible eloquence of its own. And even if it whispered all the wrong things, she could not be deaf to the cloying poignancy of human contact. She could only regret its waste.
In the interrupted dark of the back of the taxi, on her way home, it occurred to her that she had, perhaps years ago, passed into a desert without even noticing it. All the tender, urgent desire she'd clutched to her chest for the man she could not have was an ornate and intricate mirage. Like the hallucinations the brain manufactures while you're dying, to mitigate the trauma of mortality.
Whether she never fucked another man or fucked a hundred of them, whether she loved them or despised them, it would make no difference. The line was disconnected.